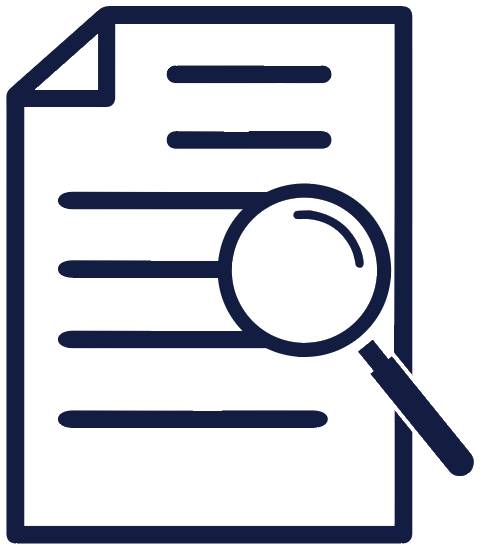 Have you ever considered updating your garden fence to create more modern or secure boundaries? It's usually something we only think about when it's time to replace a damaged fence panel or two. One sign that your garden fencing is due to be updated is structural weaknesses. Another sign is a warped rail or damage to the trellis which could lead to the boards not providing adequate support. There are some benefits to updating your garden fence before it gets to this point, such as making the boundaries around your garden more secure.
We look at six different fencing materials available on the market and what the pros and cons are for each. From chain fencing to traditional wood fencing material, or a Composite fence panel with contrasting fence posts, the options are varied to suit your style of outdoor living.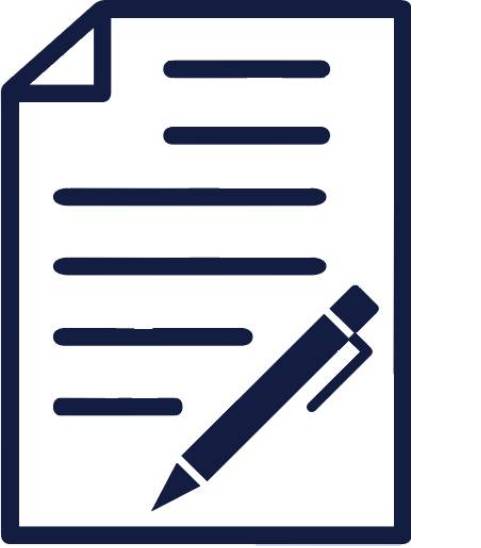 Best Overall Fence Material
Wood Fences
Composite Fences
Vinyl Fences
Aluminum Fences
Chain Fences
Steel Fences
Best Overall Fence Material
Choosing the best fence material for your outdoor area will come down to practicality and desired use, which you can find out what these are for six fencing options below in our list of pros and cons. Out of all the different types of fences, Composite Fencing has many benefits and few negatives. Composite Fencing not only offers privacy but is easy to put up and affordable, too. It's a material that can be easily cut to length and yet provide a solid, secure boundary that is friendly to the environment.
6 Fence Material Options Compared
WOOD FENCES
Possibly the most popular type of fencing featured in garden spaces, wood fence panels are low-cost and provide high levels of privacy between you and your neighbours. It's worth considering the pros and cons of this type of garden fencing before purchasing. Wood fence panels vary in quality and durability depending on the type of wood. The best wood for fence panels are hardwood types, such as oak or redwood, and are best when green treated, either dipped or pressure-treated, to provide long-lasting benefits. The biggest advantages of wood fencing are the variations in style and design, from vertical and horizontal slats with gates to modern, decorative paneling and lattice designs along the top. These can all help to make your garden look more appealing. Bear in mind the cons of wood fencing, such as wood's tendency to expand and contract, causing it to split and crack and potentially reducing its life span to 10-15 years.
Average cost per measurement: £5 - £15 per foot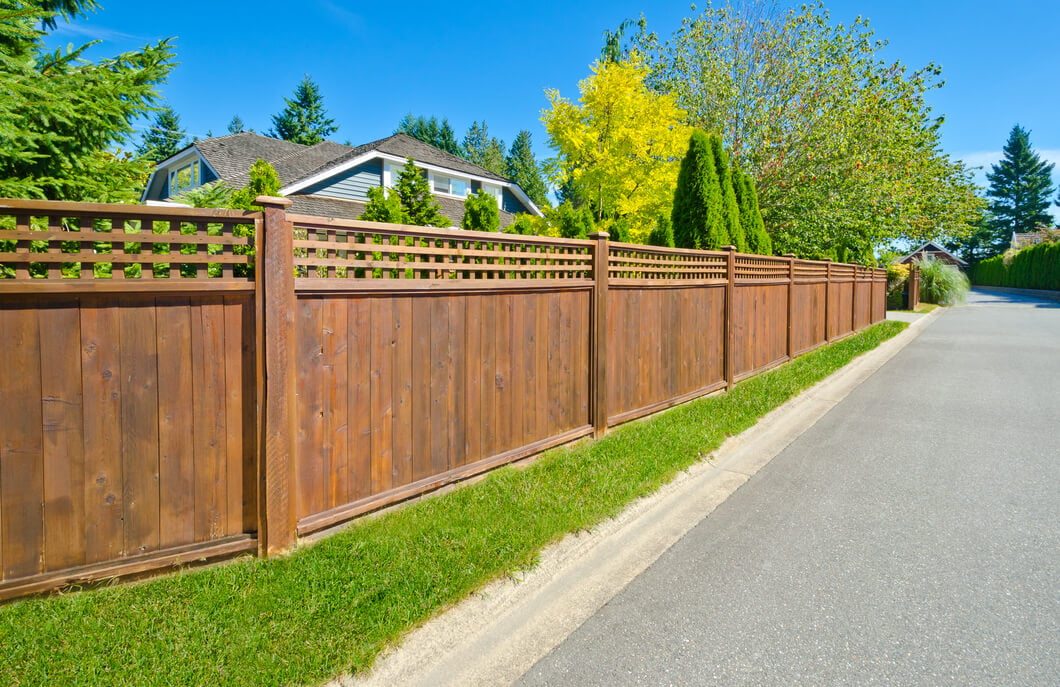 Pros of Wood Fences
Lightweight: Timber fencing is one of the easiest materials to work with, available in a variety of wood types and thicknesses. The thin, slatted wooden panels make installation easy over large areas, and maneuvering the material causes few issues.
Easy to install: The installation of wooden fencing panels is an easy undertaking when compared to heavier metal fence types and would usually involve tall wooden posts installed into the ground with concrete to help support the panels. Cut to size with a standard wood saw and requiring no special knowledge, it's no wonder that wood fencing is a popular choice for homeowners.
Environmentally friendly: Choose wood fencing that is certified under FSC standards so that you know the materials are sustainably sourced. Wood is environmentally friendly as well, so long as it's properly maintained this will help to keep repairs and replacement of panels to a minimum and reduce possible impact on natural resources.
Wide choice: As natural as they come, wood fencing will blend in seamlessly with the surroundings for rural settings. Different wood types can be matched to your garden design, with variations in style, colour, and grain. Be prepared to pay more for longer-lasting, weather-resistant wood types. Gates can be included too in the styles, allowing you to expand on your ideas and to create either modern or traditional looks.

Cons of Wood Fences
Requires maintenance: Wooden fence panels don't last forever, especially if the timber panels and posts are untreated, to begin with. Over time, damage from the elements, high winds, and moisture can penetrate into the surface of the panels and reduce their structural integrity. Making sure that the wood is pressure-treated so as to provide resistance to the elements. Staining and sealing are also part of the general upkeep required for timber fencing options.
Limited life span: You may find timber fencing will need replacing after 10-15 years, especially if it's warped by over-saturation of water, or gets damaged by insects. This is usually the case if the timber goes untreated.
COMPOSITE FENCES
Composite Fence Panels are a great option for a low-maintenance fence around your garden. Panels and Posts can come in a variety of colours to match your garden design, existing decking space, or even garden furniture. Cladco Composite Fencing is 100% recycled, made from 60% FSC Certified hardwood fibres and 40% recycled plastics, with tints and bonding agents. There are many pros and few cons to Composite Fencing which makes this an excellent choice of material for homeowners looking to improve the appearance of their garden space. What's more, Composite Fencing Panels offer excellent levels of privacy owing to a solid surface without gaps. As this is a Composite material, the key benefits include durability, rot, and insect resistance, making this the perfect garden fence option.
Average cost per measurement: £8 - £20 per foot inc VAT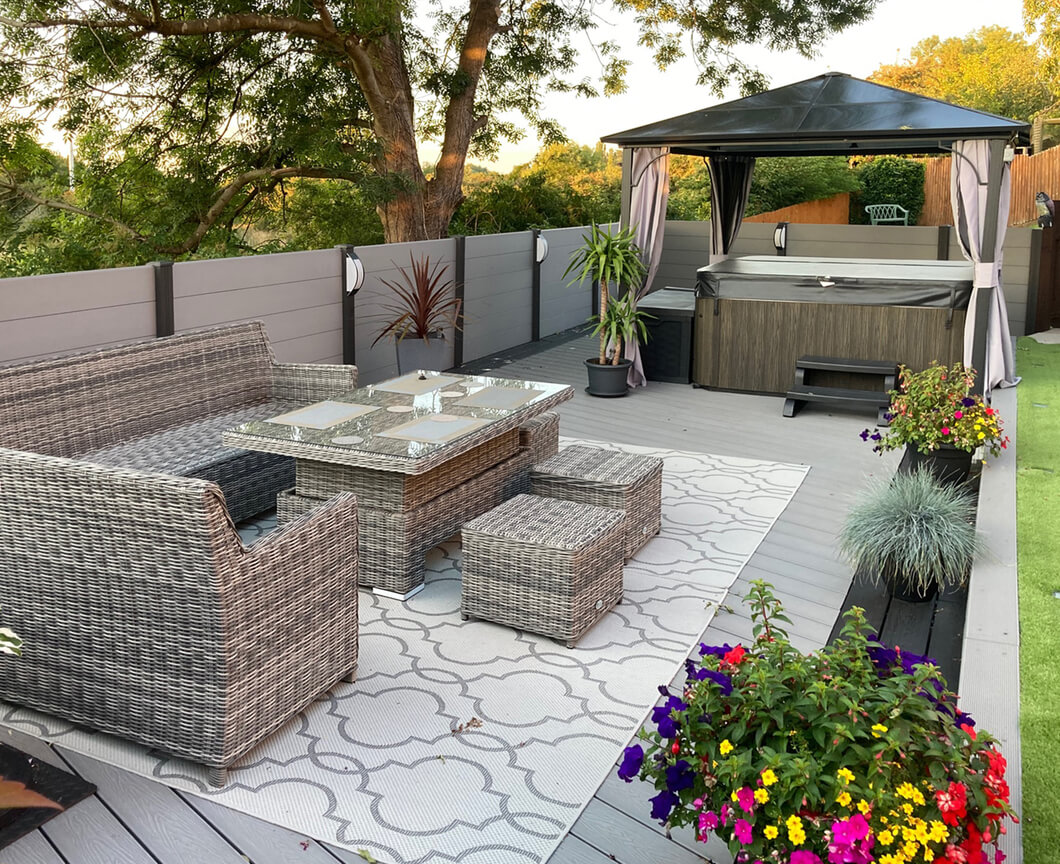 Pros of Composite Fences
Strong: Composite Fencing is durable and strong once installed correctly. The rigid composite panels interlock and connect to Composite Posts, which makes the overall fence structure sturdy and stable. This means that a Composite fence will not sway in the wind and will not warp out of shape when installed.
Colour variations: Cladco Composite Fence products come in eight colours, which is a bonus if you're looking to match the colour of your fence to a particular garden design. Cladco Composite Fencing comes with matching Composite Fence Posts and Composite Caps, giving you the freedom to mix and match Post and Panel colours to your liking.
Environmentally-friendly: Manufactured from a blend of 60% FSC-Certified hardwood fibres and 40% recycled plastics, with tints and adhesives, Cladco Composite Fence Panels are friendly to the environment and adhere to sustainably and responsibly sourced processes.
Privacy: Composite fencing benefits from improving the privacy of your garden, being completely solid. Unlike other forms of fencing, such as chain, Composite fencing is highly recommended for creating a solid perimeter.
Cons of Composite Fencing
Single design: Composite Fencing has a set design, with flat, stacked horizontal panels running from post to post. With eight colours to choose from, the smooth flat surface of the Composite Panels will provide a single design.

VINYL FENCES
Similar to composite fencing, vinyl fencing is a maintenance-free and long-lasting fencing product. A vinyl fence can be designed for many different uses, from balconies to picket fencing, making for a versatile, modern fence option. It's an adaptable fence material and can customise to suit your space with gates and posts. Vinyl fencing offers minimal security and privacy, however (although designs can include a range of solid options), as this type of fencing is mostly used for its aesthetical appeal. One big benefit of a vinyl fence is that it's a low maintenance material that although is more expensive on the initial outlay, is lower cost in the long run.
Average cost per measurement: £10 - £30 per foot inc VAT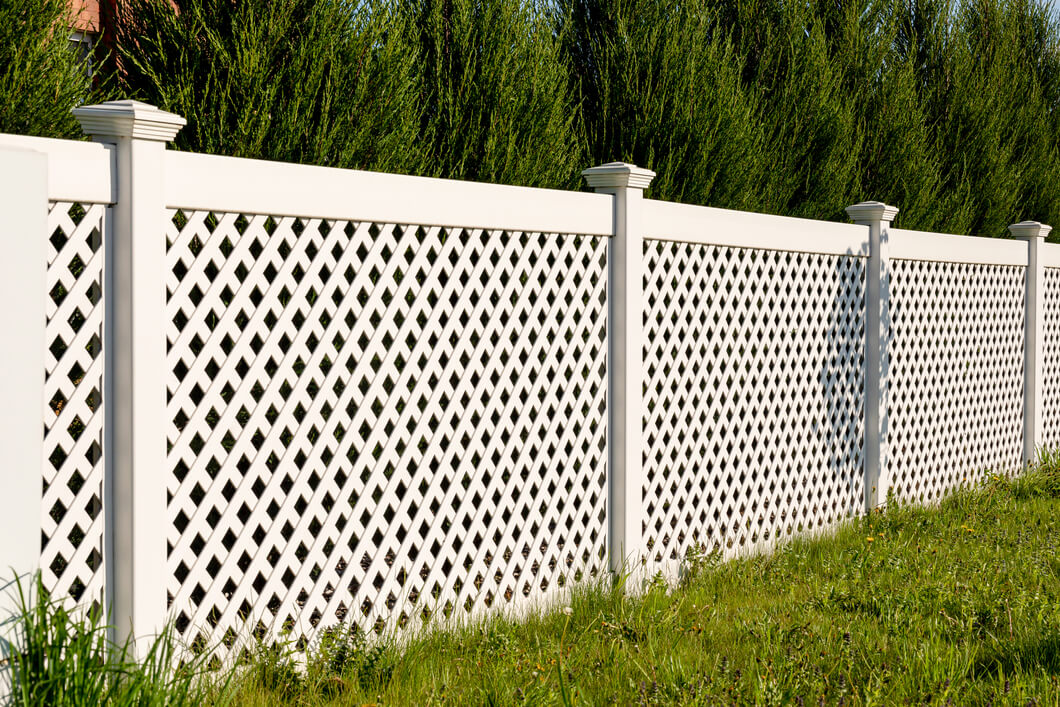 Pros of Vinyl Fences
Wide choice of designs: Similar to Composite Fencing, vinyl fencing is available in a variety of colours to suit your garden. What's more, vinyl fencing is known for having a wide choice of designs depending on use. From mesh designs to single fence line layouts, this makes for one of the most versatile fence options.
Colour retention: Vinyl fencing has good colour retention which means it'll look great for years to come, even in bright sunlight. These types of fence panels can be purchased in white as well, which means the paint can be used to colour match the surroundings or a particular design.
Privacy: Due to the style variations available with vinyl fence panels, a solid fencing design can be selected to provide a high level of privacy for a garden space. The solid construction of vinyl fencing also helps to prevent the ingress of plants and vegetation from outside the garden.
Low maintenance: Vinyl fencing is typically very low maintenance, not requiring any staining or repainting once installed. The material also is scratch-resistant and does not splinter like wood fencing. Cleaning can be performed with a hose or warm soapy water and a sponge.
Cons of Vinyl Fencing
Low security: Although any type of fencing product will increase security to some extent, vinyl fencing doesn't win in this department. It's a fencing type that is known more for its aesthetical qualities than security. Taller designs can be chosen if you're looking to increase the security aspect.
Difficult to repair: Due to the properties of vinyl fencing, this fencing type is not easily repaired if damaged. Usually purchased in set sizes and designs, vinyl fencing is usually installed as panels from post to post, which makes replacements of smaller areas tricky.

ALUMINIUM FENCES
Aluminum Fences are widely seen around commercial and residential properties offering a range of styles and designs to suit the area. Usually seen with vertical uprights running the length of the fencing, the metal construction of these types of fences can be customisable in height to provide an additional element of security. Metal fence posts can include spiked caps for extra security or include a pattern for increasing the aesthetical qualities of a perimeter. This type of fencing has many pros and a couple of cons to consider before purchasing. These include low-cost and low-maintenance benefits, as well as being easy to install due to its lightweight construction and very resistant to weathering.
Average cost per measurement: £10 - £30 per foot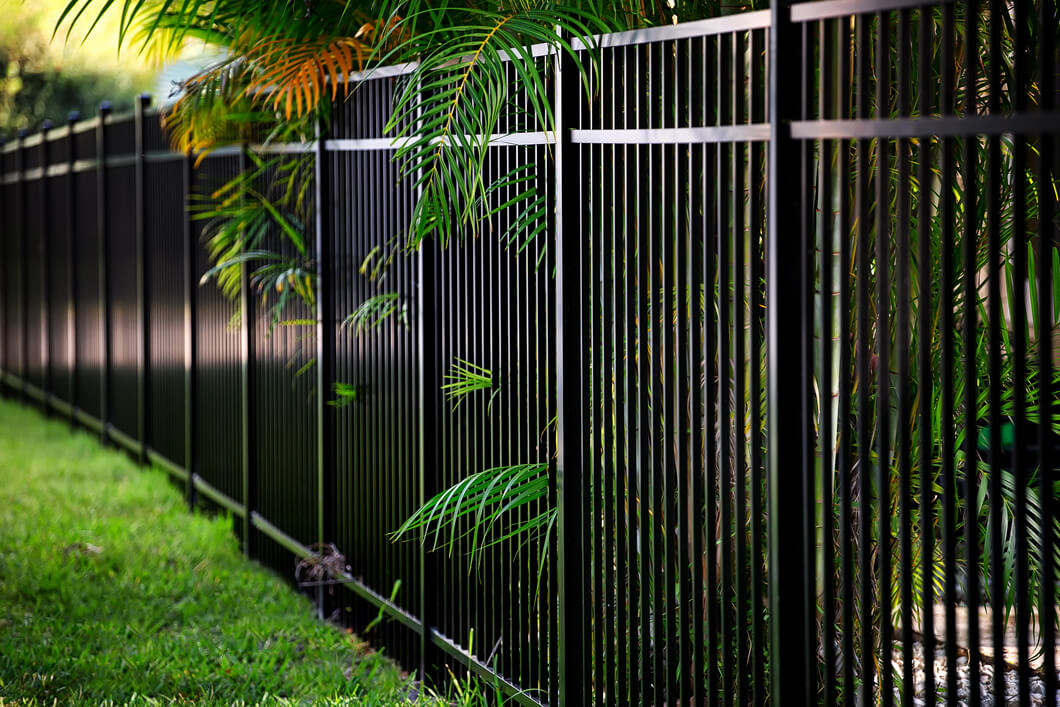 Pros of Aluminium Fences
Cost-effective: One of the biggest advantages of aluminum fencing is the overall cost. Not only is it cheaper on the initial outlay for the materials, when compared to other metal fence types, but also as one of the lowest maintenance fencing types available, it keeps the costs over its life span as regular cleaning isn't required. What's more, as it's easy to install you won't have to pay a professional contractor to install this for you.
Corrosion resistance: Aluminium fencing is commonly seen around such places as water parks, ponds, or areas with water features, because of its rust-resistant properties. Many people choose these types of fences for this reason, where little maintenance is required and they can be left around a perimeter without regular upkeep or checks having to be made.
Lightweight: Aluminium fencing is a very lightweight metal fencing product, which makes installing it very easy in large quantities.
Long-lasting: This type of fence is incredibly long-lasting and resistant to weathering or corrosion. Its low-cost benefit, too, makes Aluminium fencing great value for money with little requirement to repair or replace over its life span.
Cons of Aluminium Fencing
Low security: Aluminium fencing gives a minimal level of security to your garden's perimeter, with generally a low height, this type of fence is usually meant for increasing the appearance of a garden.
No privacy: Owing to the design of aluminum fencing, metal bars are usually quite thin and widely spaced. This means that you won't benefit from increased levels of privacy if this is something you're looking to increase.

CHAIN FENCES
Low-cost fence options include chain fencing, which features a cross-hatching design of thick mesh metal wiring. The lightweight appeal of chain fencing means it can be installed across large spaces easily and quickly. Smaller fence spacing helps to keep pets and objects from passing through. This type of fencing is commonly seen around commercial buildings, sports pitches, and tennis courts, however, homeowners can benefit from this kind of fencing for alternative and contemporary outdoor boundaries. Bear in mind, if you're thinking about including a gate into your chain wire fencing, this is not ideal as there are more attractive alternatives available, such as aluminum fence options.
Average cost per measurement: £5 - £15 per foot inc VAT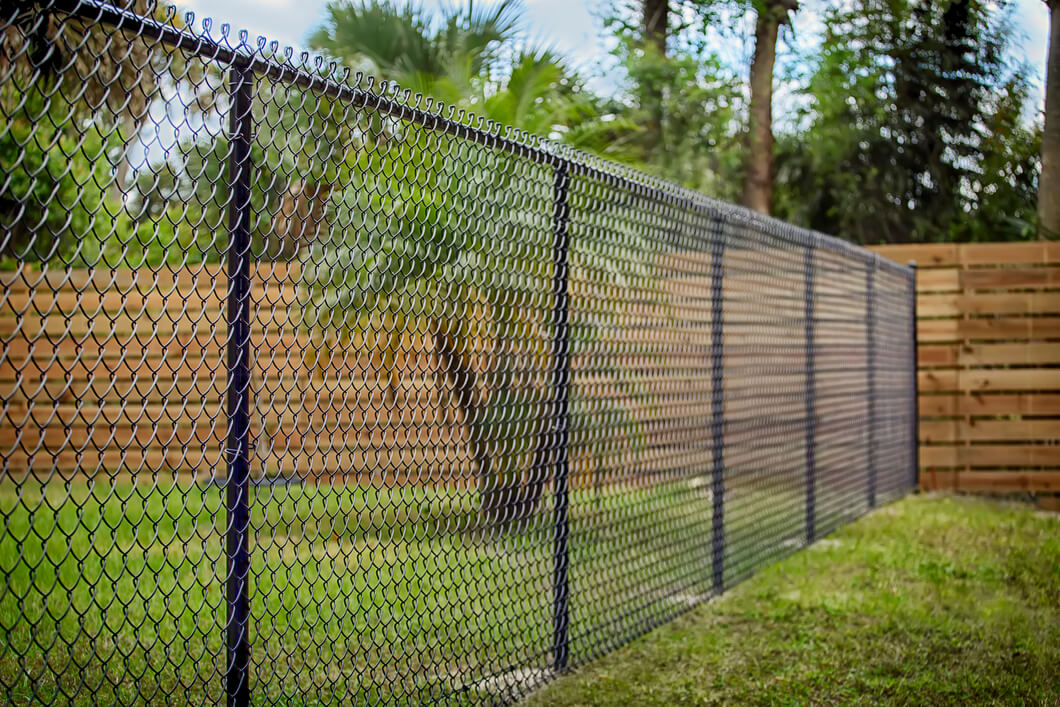 Pros of Chain Fences
Cost-effective: Chain fencing is a budget-friendly option for domestic or commercial properties working on a tight budget. This can be purchased in large quantities to cover large areas around a property and installed to heights up to three metres or taller.
Quick installation: If you need to get a fence up quickly, then chain fencing is the best option. Once installed there's little maintenance to undertake and it's easy to repair when required.
Cons of Chain Fencing
Unattractive: Chain fencing isn't the most attractive fencing out there, commonly seen around industrial areas, construction sites, or government-owned buildings. The dull galvanised exterior can be switched out for a more appealing vinyl colour coating to help it blend into the surroundings.
Structural integrity: Chain fencing isn't the most solid fencing type available, and can become weakened or distorted if the interlocking wires are cut at any point along the perimeter. What's more, if the fence takes impact from above, from a fallen tree, for example, the structural integrity can be compromised.
Security: The narrow, interwoven metal wires offer a level of protection that will keep animals out, but can be easily climbed over or cut through. This isn't ideal if you're looking to improve the safety and security of a property.
No privacy: Chain fencing isn't known for its privacy, without any solid paneling. If you're looking for a more private boundary, consider looking at Composite Fencing.

STEEL FENCES
This type of fencing typically consists of heavy-duty, vertical bars which provide a high level of protection from a wide range of external factors. Usually found around the edge of factories and manufacturing plants, helping to emphasise the industrial appeal. Being heavy-duty, steel fencing is tougher than most and offers an extra level of security for a property. The big advantages of this kind of fence include complete and secure gates that can be installed as part of the design from one post to the next, although not decorative and rarely seen in gardens.
Average cost per measurement: £25- £40 per foot inc VAT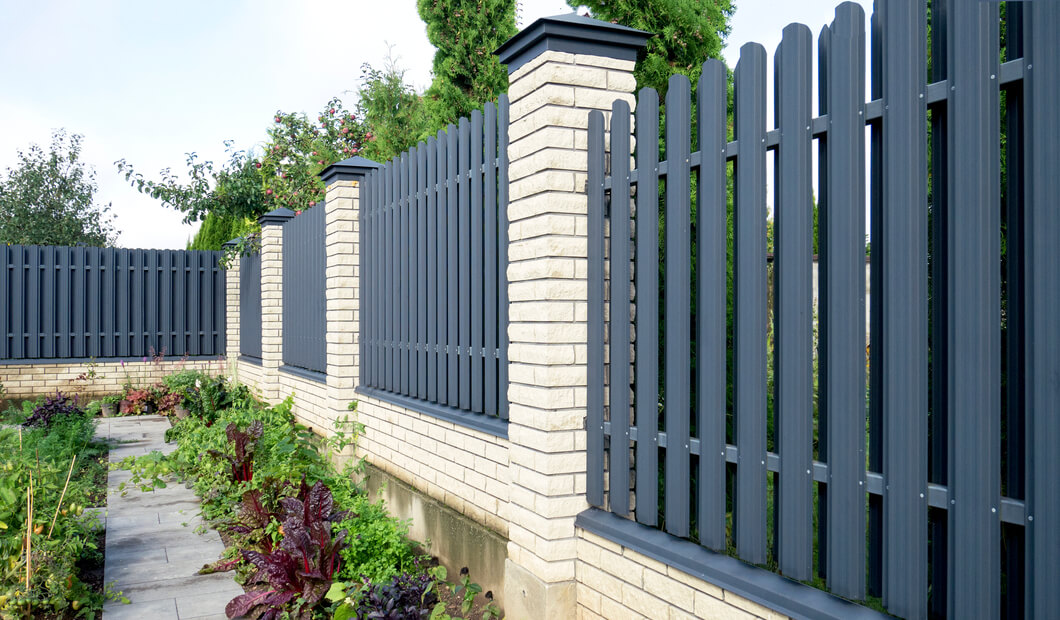 Pros of Steel Fences
Durable: Rust-resistant, galvanised bars make this type of fencing hard-wearing and corrosion-resistant. This increases the security of a perimeter, as the bars maintain structure and integrity for many years to come, especially in harsh weather conditions.
Long-lasting: Galvanised steel can last for many years outdoors, with the possibility of lasting hundreds of years if installed correctly.
Security: The tall narrow bars which form the vertical uprights offer high levels of security and protection. The tough construction cannot be easily cut through without specialised cutting tools.
Cons of Steel Fencing
Heavy: Steel fencing is one of the heavier types of fencing due to its metal posts and uprights. This makes installation and moving the components difficult in large quantities without the help of machinery.
Difficult to handle: The large heavy materials of this fencing can be difficult to install and can require a professional contractor with the necessary experience to successfully install the posts and bars.
Dull appearance: A dull grey, galvanised exterior is not designed to be an attractive fencing type around a property.
When it comes to price, chain fencing is the cheapest option however not the most secure. Other fencing types range from sleek single board designs to multi-panel or metal designs with or without a gate. Whether you're looking for privacy gained from having Composite Fencing Panels installed or for more decorative Aluminium fencing or increased protection from metal fencing posts, each fencing type comes with its own set of benefits. Consider whether you want to go with a more traditional fence type such as timber or for a modern Composite fence type for your garden.