If you are looking to expand your outdoor living space by investing in a new deck or a patio, ensuring you buy the right materials is crucial. Installing either a deck or a patio has different processes and requirements.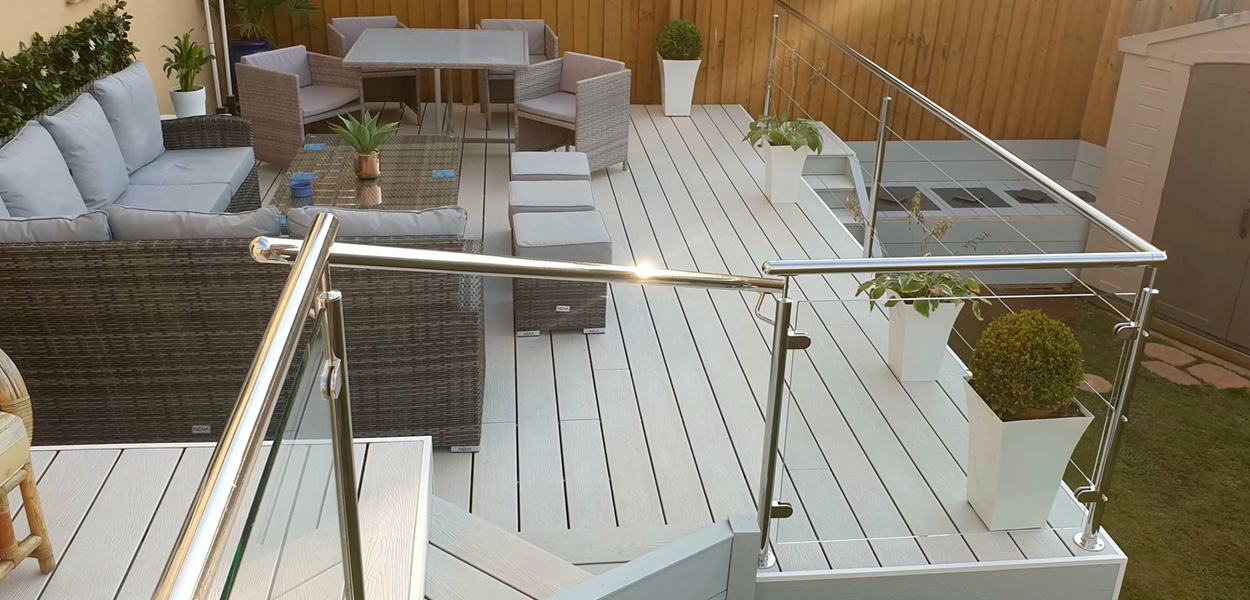 The first difference to bear in mind when choosing between a deck and a patio is the appearance, as both are different in their materials as well as sizes.
Decking boards are available as 2.4m or 4m boards. They can be installed on structural joists, whereas heavy paving slabs are secured onto a concrete base at ground level. Composite decking is made from an amalgamation of recycled plastic and recycled wood fibres, making it a durable, high-quality and long-lasting product.
Decking and patios can both be either very easy to maintain or, if you choose the wrong type, you may be left with an outdoor space that needs a lot of maintenance and upkeep. Low-cost patio paving slabs may require more care and may chip, crack and fade faster than a high-quality premium paving stone.
Timber decking requires annual staining, sanding and varnishing, whereas Composite Decking Boards simply require an annual clean.
Decks are usually made from either Timber Decking Boards, Composite Decking Boards or PVC Decking Boards; all of which give the appearance of traditional wooden decking. Patios are constructed from paving stones. These can come in a range of designs, colours and qualities. The higher the quality of stone the less maintenance is needed.
While decking can be installed either low-to-the-ground, raised up, or as a balcony, patios are heavier and require a flat, concreted structural area. Both patios and decks may require landscaping before instalment, to ensure its suitable.
Both Composite Decking and Patios have low-water absorption, insect resistant and UV-resistant properties. Composite Decking is installed in a damp, moist area, moss and algae are more likely to grow and affect the surface of the boards. Patio slabs are less likely to be broken down in heavily damp areas.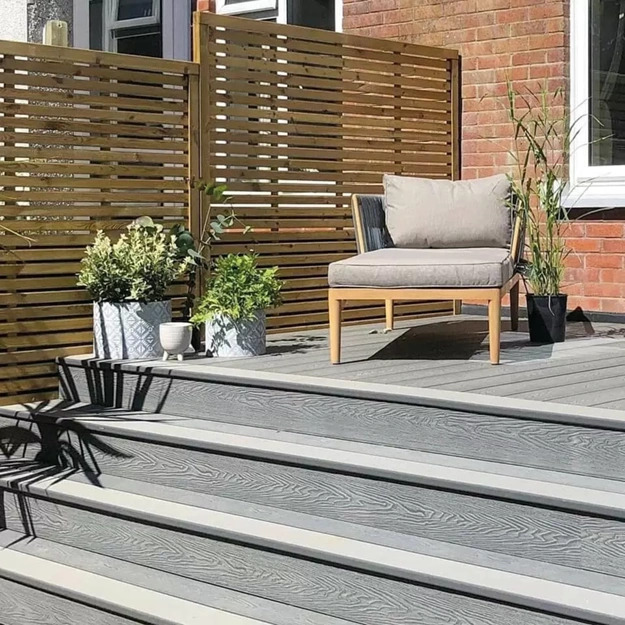 Advantages and Disadvantages of Patios & Decking
PROS OF COMPOSITE DECKS:
Can be installed either low to the ground, as a raised terrace, or on a balcony

Low-maintenance - Does not need to be sanded, varnished, or stained

Available in a range of eight colours

Low-absorption rate - Boards will not rot or splinter

Insect-repellant - Insects are unable to eat through the boards

UV-Resistant - Colours have fade resistance (some natural fading will occur)

Low-slip surface when boards are installed with narrow grooves facing up (narrow-grooved decking only)

Environmentally friendly - Made from 100% recycled materials
CONS OF COMPOSITE DECKS:
Weight restrictions - Unable to hold items such as a hot tub

The cost of composite decking can be higher than a timber deck

While composite decks have a longer life span than timber decks, it does not last as long as patio slabs

In some conservation areas and council districts, planning permission may be required before the installation

Can be slippery in the winter, even with the low-slip properties.

Complex installation
PROS OF PATIO:
Can withhold large weights

Wide range of prices and designs to choose from

Hard-wearing surface (varies depending on the type of stone)

Low-maintenance

Long life span of up to 25 years

May not need planning permission (please check with your local area before installing)

Natural-looking material
CONS OF PATIO:
Have to be installed on concrete which may need landscaping for a level surface

Prone to cracking and chipping

With its concrete base, patios are not environmentally friendly

Limited to ground level only

Requires lots of cleaning as the slabs are susceptible to staining

Installation may be costly and time-consuming
Decking vs patio: Which is better?
Both decks and patios are great additions to outdoor living, for al fresco dining, socialising, BBQs and entertaining. Adding patio and decking areas to your garden can transform the look and how you use your outdoor space. They can also seamlessly transition from indoor living to outdoor living. Depending on your garden size, location (is your garden sloped, or flat?), and personal preference, will all determine which one you need.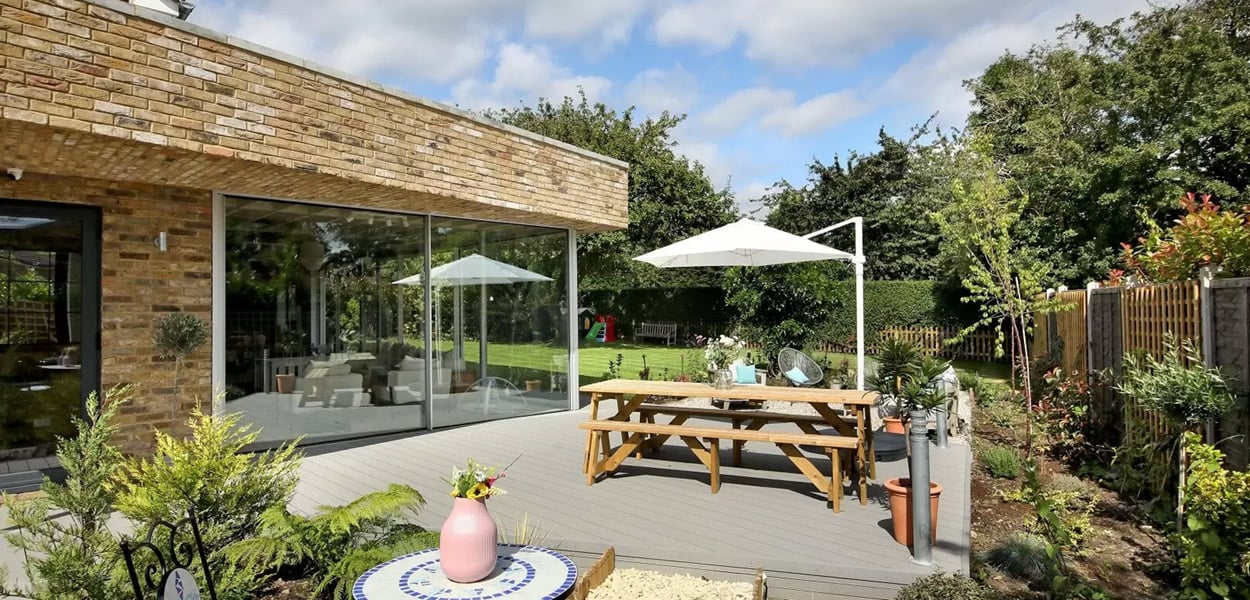 When building a deck or patio, it is important to consider the use of the new deck or patio. Does it need to hold a large weight, such as a hot tub? Does it need to include a raised seating area? If your garden benefits from a view, overlooking the sea, a river, or the countryside, you may want to use your garden addition as a viewing platform.
Having a deck vs a patio means that a deck can be elevated, or added to an existing balcony. Patios, however, can offer more privacy as they can only be installed on a concrete base at ground level. But, while decks can be included in the design of a building as a balcony or terrace, WPC decks are unable to withstand as much weight compared to a patio.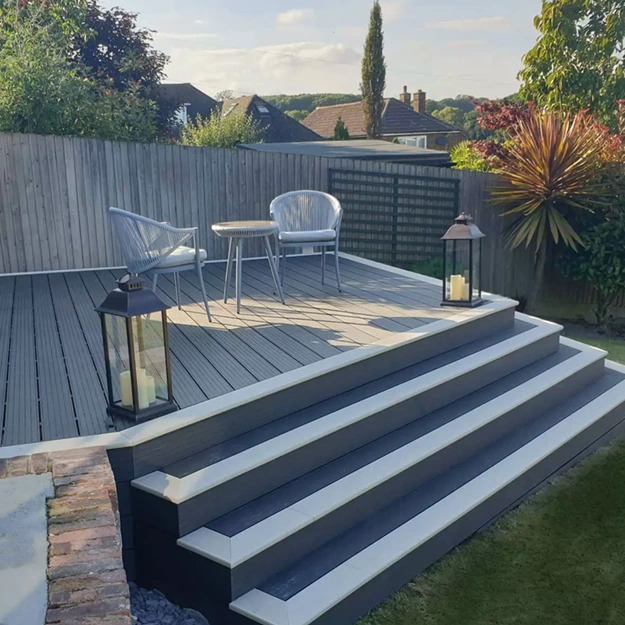 Both patios and composite decks require installation time and energy, and both have different installation specifications.
It is also important to know the different needs of the two materials. While decking can be installed at both raised and ground levels, decks still need to be slightly heightened with a sufficient substructure. This can be with a concrete base or appropriate joists.
One huge benefit, if you choose Composite Decking, is that because it can be raised and installed over uneven ground on posts, the installation is often cheaper, easier and less time-consuming.
Once the structure is in place, boards are easy to install thanks to their grooves and can be secured in place easily. Enabling a flat area for your patio slabs could require landscaping and this can be time-consuming and costly.
From a design perspective, both materials have elements, that allow them to create an aesthetically pleasing layout. Intricate patterns and designs can be achieved with paving stones, whereas clean simple lines appear when using decking.
Composite Decking is available in a range of colours, with a woodgrain effect on offer as well. This enables you to complement or contrast with the colour of your house.
During the installation, adding a picture frame effect with other decking materials, such as Bullnose Boards, can also add a unique and sophisticated finish.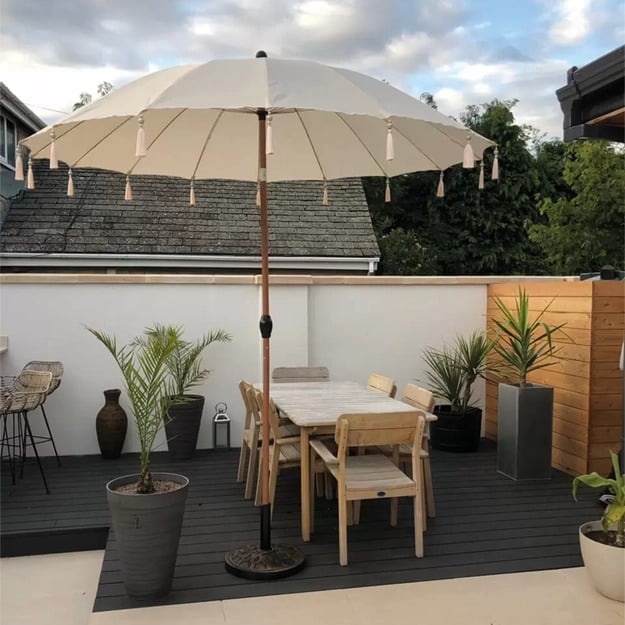 Patio vs decking: Cost of materials comparison
Building a deck or a patio isn't cheap, so when choosing between a patio or deck, you may want to consider the cost of both of the installation time and the price of the materials. While the cost of a composite deck is more expensive than traditional timber, its benefits make it a stronger investment in comparison to a patio.
Adding a composite deck vs patio to your building gives you the option of having a low-to-ground or heightened outside seating or dining area, with low-slip properties for a safe, year-round outdoor extension.
Please note: Actual prices may vary from the below and are for guidance only.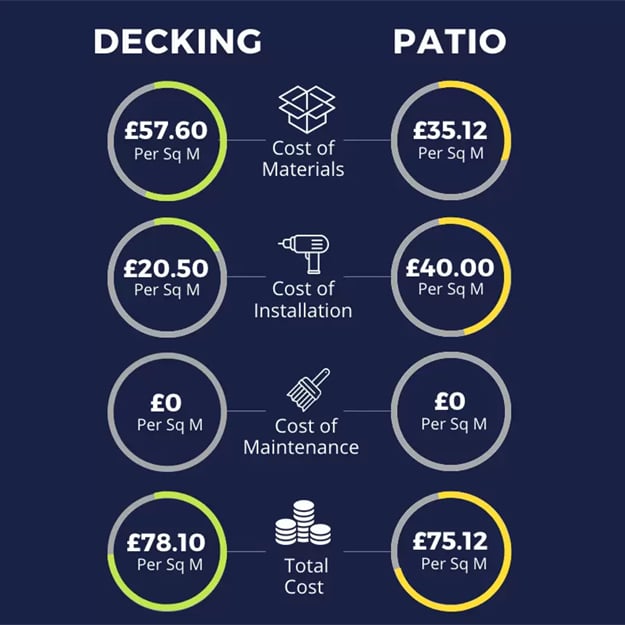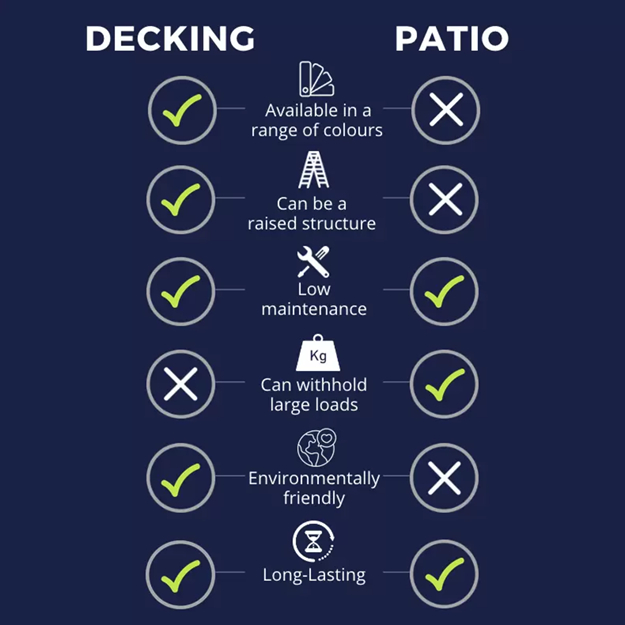 Conclusion: What's the 'return on investment' for a deck vs patio?
So when it comes to adding a multifunctional outdoor area to your home, which is better, a deck or a patio?
While the affordability of decking may be slightly more than some patio paving slabs on the market, both patios and composite decking could potentially add value to your property. This is especially so if they add or extend the living area of a building.
A composite deck has a range of benefits, including low-slip properties, insect resistance and low absorption rates. This means boards are resistant to warping, rotting, or splintering, while also resisting moss and algae. Patio slabs are made of natural materials which do not need a high level of care. To help prevent the stone from cracking in colder climates, consider treating the area where they have been installed.
Neither patios nor WPC decking requires constant upkeep. Both types can last for many years with a high-quality look if they are cleaned regularly of dirt and debris.
If you're looking to sell your home, adding outdoor seating, a socialising, or a BBQing area may help to increase the attention of buyers and add value to your home. The more expensive and premium materials used, the greater return on investment.
When looking to install a patio or deck outside of your house, it is important to check any planning permissions and safety guidelines before making any purchases. The design of your home and the look of your garden is important when shopping for an outdoor addition. Take into consideration the size of your garden, and the colour and design of your home before making a choice between a deck and a patio.
If you live in a rural area with a traditional brick-style house, a patio would fit in with the aesthetic of the surroundings. Decks are often better suited to innercity, modern homes because they can be incorporated within a raised design, as well as used on a terrace. Decking can be more flexible around these spaces when compared to low-lying patios.