Adding Wall Cladding to the interior design of your home is a fantastic way to not only protect your walls but add warmth, depth and features to any room. Unlike wallpaper or paint, Internal Wall Cladding can be easy to maintain and keep clean.
This blog will go into the details of interior Cladding, helping you decide which is best for you.
Which Cladding Material Should I Choose?
There is a plethora of Cladding Materials to choose from to add to the interior of your home. Including plastic, timber, fibre cement, aluminium and Composite. But out of these options, which would give your home the best experience? We explore the three most popular choices when it comes to internal Wall Claddings.
Cladco Composite Wall Cladding:
Cladco Composite Wall Cladding Boards are manufactured for exterior use. However, these could be used as interior cladding boards if necessary. Cladco Composite Wall Cladding Boards are manufactured from an amalgamation of 60% FSC accredited Wood Fibres and 40% Recycled plastic.
Pros:
Low-maintenance
Stain-resistant
Scratch-resistant
Available in a range of eight colours
Cons:
Large surface area - which works for external Cladding but may be a negative for internal Wall Cladding Panels
The amalgamation of plastic and wood means some Composite Cladding Panels can look slightly fake and plastic.
Composite Wall Cladding is not the cheapest interior Cladding on the option.

Soft Wood Timber Wall Cladding:
Traditionally timber has been used as cheap internal Cladding. Timber is often used as Cladding interior material thanks to the attractive warm notes it can bring to a room. Soft Wood Timber can be installed either vertically or horizontally for a range of room layouts and designs.
Pros:
Easy to install
Cost-effective
Attractive timber appearance
Cons:
Timber needs to be maintained and regularly stained, varnished and sanded
Panels could expand and contract and potentially change the design
Natural products may have variations within each Board

PVC Wall Cladding Boards:
PVC, or Polyvinyl Chloride Wall Cladding Boards, are lightweight, hollow plastic Boards with an easy to install smooth surface.
Pros:
Cost-Effective
Available in a range of colours
Easy to maintain and keep clean
Cons:
It can look plastic and fake
Not Environmentally Friendly
May need to be replaced sooner than natural products
How to Use Tongue and Groove Interior Cladding
Tongue and Groove style interior Cladding is a way of installing Cladding Boards for a contemporary, uniform and smooth look. The Boards can be fitted together either vertically or horizontally, depending on your preference.
Boards are installed along the longer length of the Board, which looks like this: (measurements may vary depending on supplier)

You can find out more about Tongue and Groove Wall Cladding via our blog or website here.

Cladco Composite Olive Green Wall Cladding Boards create an attractive indoor display area:
This company has used Cladco Composite Wall Cladding Boards in Olive Green, installed horizontally using the Tongue and Groove method to showcase some of their products. The Olive Green finish of the Cladding at the back of the building creates a wonderful display area, which gives you the best impression of being outdoors, fitting in with their company slogan beautifully.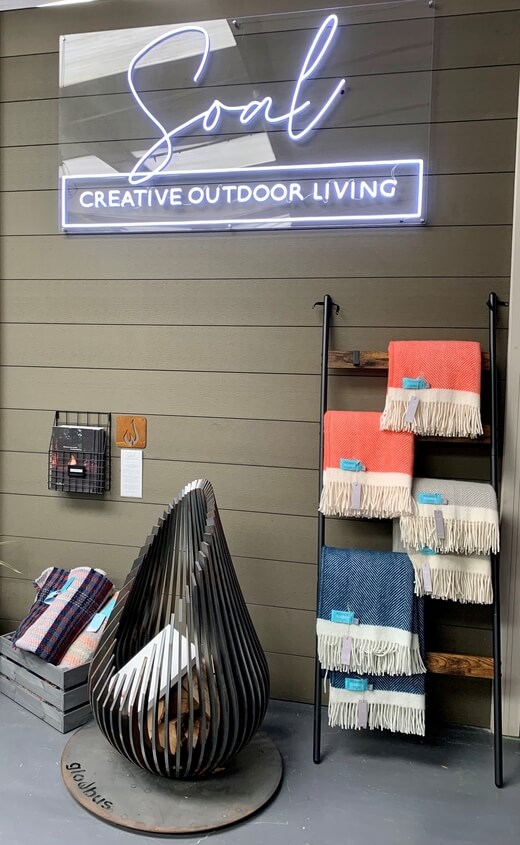 Tongue and Groove Technique used with Grey Wall Cladding to create an outdoor feel indoors:
Cladco Stone Grey Composite Wall Cladding has been installed using the Tongue and Groove technique vertically. This garden room has been Cladd both inside and outside, creating a seamless design throughout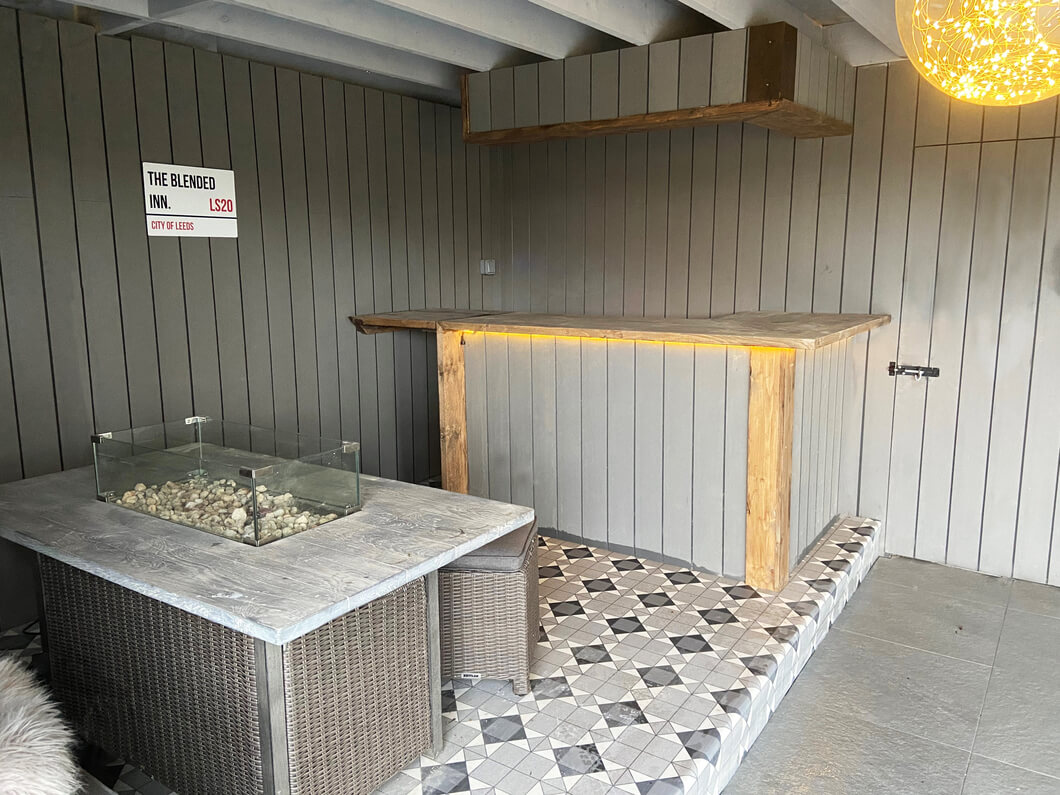 For more interior cladding ideas or view offers and prices of internal wall cladding, read on.
Using Period-Style Wood Panels
Using Period-Style Wood Panels on the interior of your home has been becoming increasingly popular. Using wood to panels in any settings, such as Bedrooms, a bathroom, hallways, and the kitchen, is a fantastic way to transform any wall into a stunning feature wall.
Traditionally, Panelling has mainly been oak. Nowadays, people are transforming their homes with a range of colours from traditional natural and brown tones to the more modern colours of white, grey, and blacks.

Warm and modern coloured Wall Panelling create a relaxing look for this bedroom.
This bedroom below has used two varieties of Wall Panel, a squared look and a rectangular. Both work well to enhance and transform the room's look—the sleek lines created by the Panelling, made by cutting the panels into smooth strips.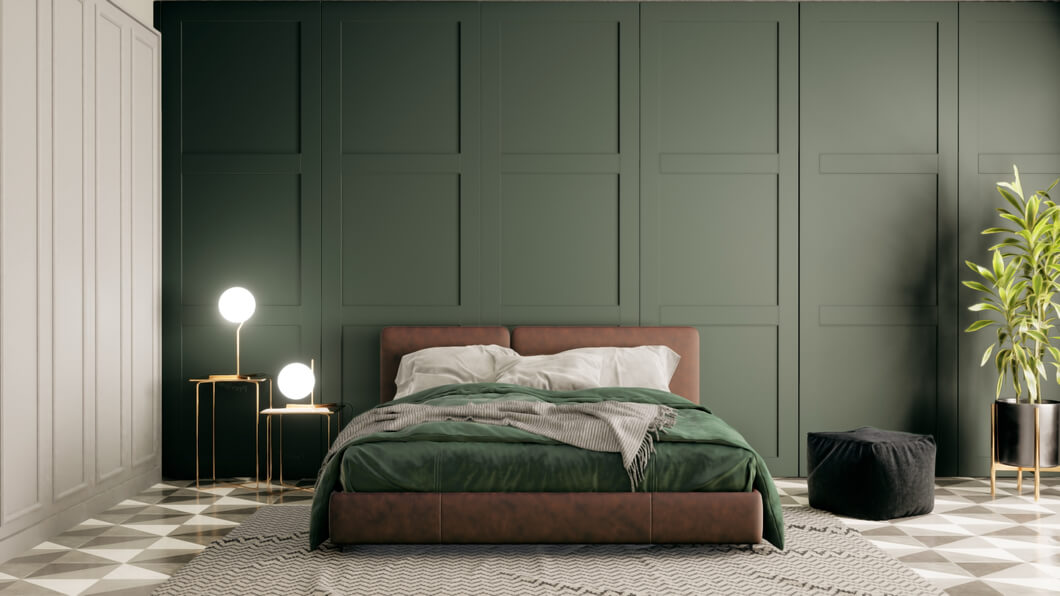 Grey Internal Wall Panelling
Cladding interior design is often different from the exterior. Where Exterior Wall Cladding Materials are treated to protect the exterior of a home and sometimes even provide additional insulation, interior Cladding products are designed for the room's aesthetic alone.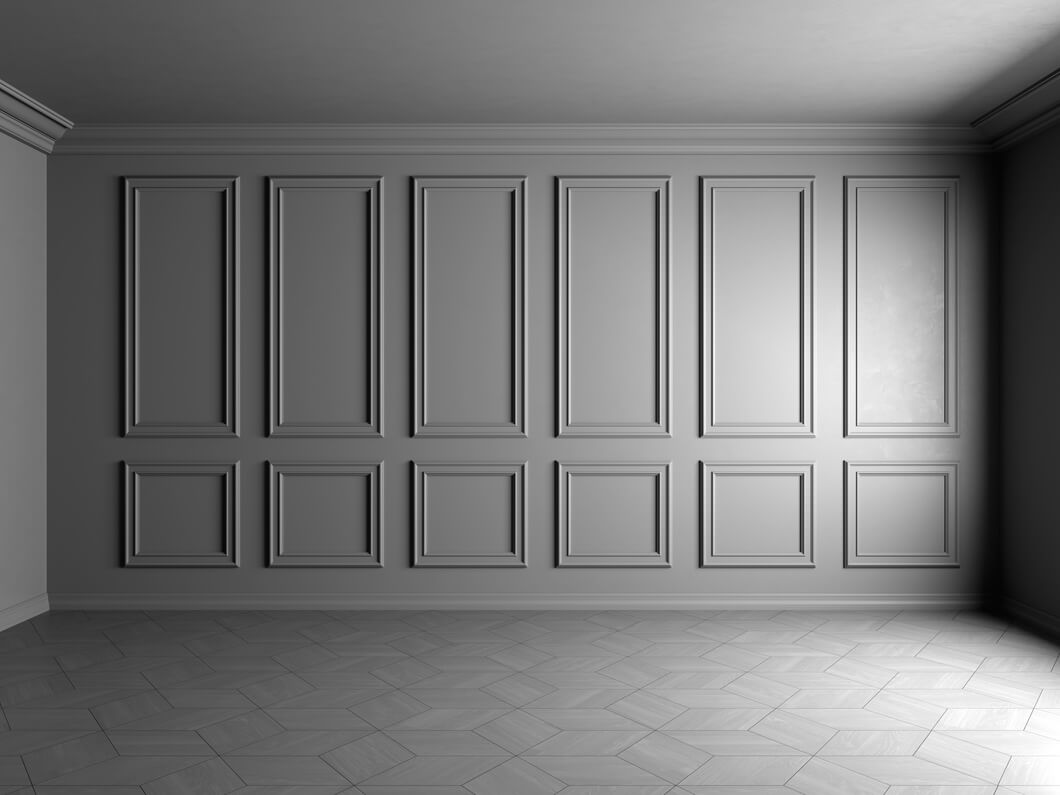 If you are looking to create various Georgian or Victorian style Panelling, as shown above, then you need to decide if you want to paint or stain the panels. MDF Panels are an easy product to use in any project which needs painting. The Panels are easy to install, lightweight and can be painted any colour with beautiful results.
How Much Does Wall Cladding Cost?
When doing anything to your property, the cost depends on what results you want from your design, how much Cladding you want, and what colour/material you would like.
If you are adding a Cladding interior to your bathroom, you may want to decide on a material that will not grow mould or absorb water. In contrast, you may wish to choose a high-quality Cladding material for your kitchen as it is a room you spend a lot of time in.
The average cost per m2 for Cladding interior panels are:
UPVC - £20
Timber - £35
Cedar - £40
Aluminium - £75
Zinc - £35
MDF - £25 - £400
Why Should I Use Internal Cladding?
Adding internal Wall Cladding to your home is an easy way to transform the appearance of any room. Cladding can be installed and painted in various styles and shapes to suit your personal preferences.
An internal panel product can be installed in almost any room, either in vertical or horizontal length and are available in a range of colours, the opportunities for designs are endless.
Easy to install and with various materials to choose from, internal Cladding offers a range of designs, colours and textures for your home.
Wall Cladding is also a great way to deal with uneven walls or surfaces.
How to Fit Internal Timber Cladding
Before installing any internal cladding, your walls may require a little bit of attention before fixing the internal Cladding.
Timber Cladding is a popular choice for interior design panelling projects. The product is easy to install, cost-effective, attractive and easy to install. Once you have measured and correctly purchased your Wall Cladding Products, installation is the next step in building your perfect feature wall.
Step one:
Ensure your walls are prepared for the Cladding - No sticking out nails or damp patches. Measure your wall from the top to calculate how much Cladding you may need.
If your Cladding isn't pre-finished, you should treat all the faces and edges of your Cladding before fitting it.
Decide how you would like to install your Cladding, vertically or horizontally?
Step two:
Mark out where you would like your internal Cladding to be fitted. With a white or grey pencil, leaving your optimum gap for your design between Cladding, ensuring all panels line up correctly.
Step three:
For Tongue and Groove, battens should be fitted to the wall first. Then the Cladding can be fixed either from the top or the bottom, directly to the battens and through the 'tongue' part of each panel. You can see the insulation guides online here.
Other methods, not tongue and groove, the panels can be glued into place with sumo grip adhesive or similar products. Apply the glue and use pins or nails to hold it in place. Once the glue is dry, remove the pins.
Step four:
Paint, gloss and enjoy.
Installing Wall Panelling is a great way to add your personal touch to your home. The length of panels can be customised to your home, and you can paint in a range of colours.
Cladco has a range of Composite Wall Cladding Boards and Fibre Cement Wall Cladding in various colours. The Boards are low-maintenance and easy to install, designed for the exterior of your home.
View inspirational images in our gallery, order online, learn about the services we offer, or receive a quote online or via our sales team on 01837 659901.