Composite decking is a long-lasting, durable alternative to traditional timber or PVC decking. Quality composite decking keeps the look and feel of natural timber while maintaining its environmentally-friendly quality, being FSC certified to meet the required standards.
The manufacturing process involves a combination of recycled plastic and wood fibres, with bonding agents, additives, and tint added to the mix. Also known as wood-plastic composites (or WPC), they can be better for your home in many respects.
Think of composite decking as a blend of plastic synthetic and traditional wood decking and you're on the right track.
THE BENEFITS OF COMPOSITE DECKING
Low maintenance and requires very little upkeep over its lifespan
Boards are resistant to UV rays and are fade resistant for colour retention
Composite decking maintains its shape, being warp or splinter resistant
Low-slip properties make composite decking safer to walk on than flat plastic decking
Composite decking is insect and pest resistant
Hard-wearing composite boards offer resistance to moderate scratches and stains
Friendly to the environment - composite boards are manufactured from recycled materials
Save money in the lifespan of composite decking with lower upkeep costs compared to traditional wood decking
Materials come ready to use, so there's no need to sand, varnish or paint composite decking products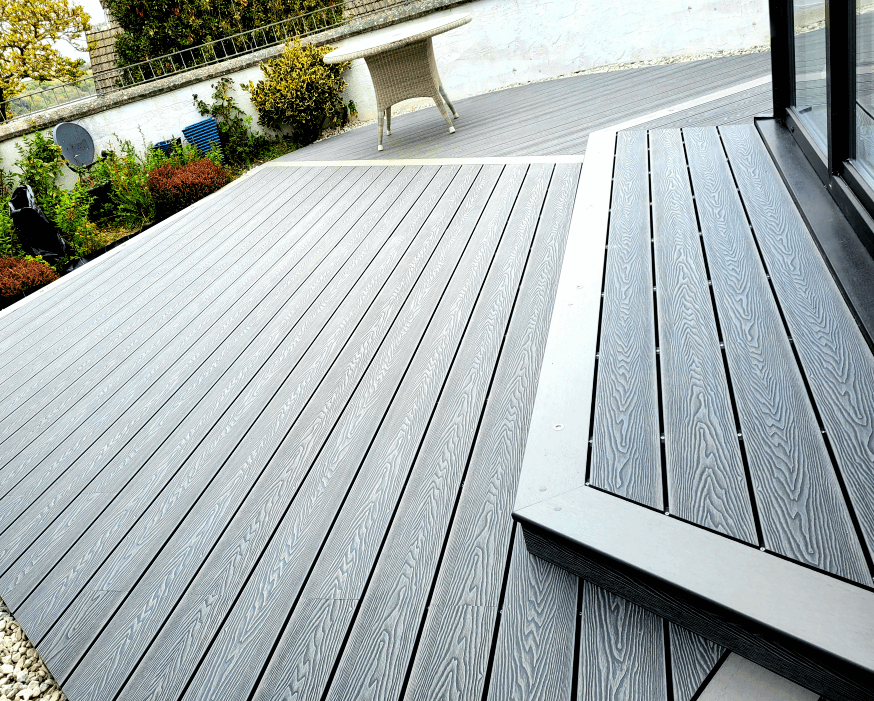 WOOD VS. PLASTIC VS. COMPOSITE DECK
Not sure on which decking material is best? From timber to plastic, to modern composite material, Here is a rundown on the pros and cons for each type so you can make an informed choice when the time comes to picking the right one for your outdoor space.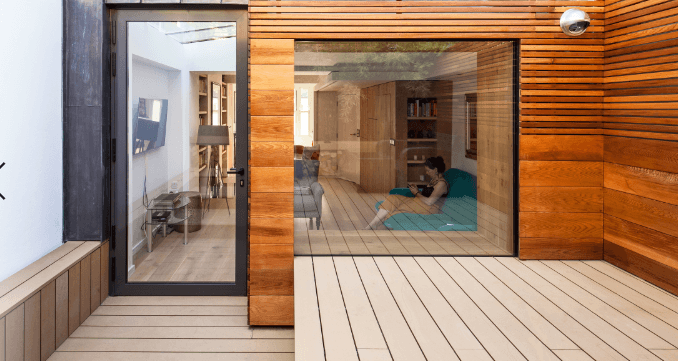 TIMBER WOOD DECKING
Pros:
Cheaper on the initial outlay
Real wood grain is a given
Strength underfoot for a solid construction
Cons:
Higher maintenance costs over time
Treatment and staining required throughout its lifespan
Traditional decking is susceptible to rot and insects over the years
PLASTIC DECKING
Pros:
Lightweight boards for easy installation
Cheaper on the initial purchase
Insect resistance and low maintenance

Cons:
Can crack, bend and warp in hotter climates
Without a timber effect, plastic boards do not look as good
COMPOSITE DECKING
Capped wood composite decking has many benefits, which include:
Pros:
Insect and pest resistant
Lower maintenance costs over its lifespan
Low-slip properties on decking products with narrow grooves
Cons:
More expensive one-off costs on the initial outlay
Solid Core Boards offer better support for heavier objects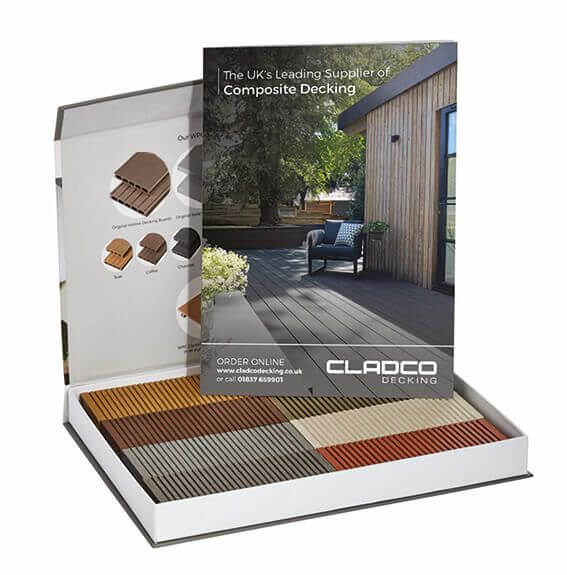 Hollow decking is a capped composite material using end caps to seal off the open ends of the boards. This helps to keep insects, like worms or ants, from entering the inside of the boards. Cladco Samples Packs are a great way of previewing decking colours and finishes while in the planning stages and deciding which one you might like to use for your outdoor deck space.
What is Composite Decking Made of?
The material used in a composite wood-plastic decking board is made of 60% FSC-certified recycled hardwood fibres and 40% high-grade recycled plastics (polyethylene). Alongside high quality additives, bonding agent and tints, a Cladco Composite Board is environmentally friendly due to the fact there are no PVC elements or toxic chemicals that could affect the natural environment. The combination of hardwood fibres and plastics means you can achieve the best results for your outdoor project.
Cladco Composite Deck Boards come with the FSC certification stamp, meaning any wood fibres that are used in the composites meet the standards laid out by the Forest Stewardship Council (FSC), having been produced from well-managed forests or recycled materials. This certification stamp gives you the peace of mind that the quality of the products will last for years to come.

How Are Composite Decking Boards Made?
Composite decking is made by a process known as co-extrusion involving the melting and blending of raw materials together. Each product, or raw material, is then fed through a die system while maintaining a constant temperature to create the required shape of the deck. This is to make sure a high level of consistency is achieved from one product to the next in the production line.
Cladco Composite Decking is manufactured with either a Solid or Hollow Core construction. The latter of the two types uses less material in the production process and is less expensive to buy. Solid Core deck boards come at a higher price point due to the increased use of materials during the manufacturing process but provides good sound absorbing qualities for your decking area.

The Difference Between Polyethylene and Polypropylene
Both plastics are found in our everyday lives, but the recycled plastic used in composite decking is called Polyethylene. This is the more common plastic of the two types and is found in many of our everyday products. Polyethylene is a lightweight and durable plastic, ideal for composite decking.
Polypropylene is the second most commonly used plastic after Polyethylene, and has a higher melting point. Being a heavy-duty plastic, polypropylene is commonly used in the car industry, for example, and for packaging and plastic parts for a range of industries.