Adding Timber Wall cladding to the exterior of your home, garage, or garden room is becoming increasingly popular. Not only is timber a fantastic source of insulation, but the natural product can transform the look of any building. Timber Wall Cladding Boards are available in a range of species and are ideal for various projects. The attractive, durable, and cost-effective material can transform the exterior appearance of buildings, and some wood cladding exterior can add value to a property.
This article will break down what Timber Cladding is, what it can be used for, and what alternatives there are on the market.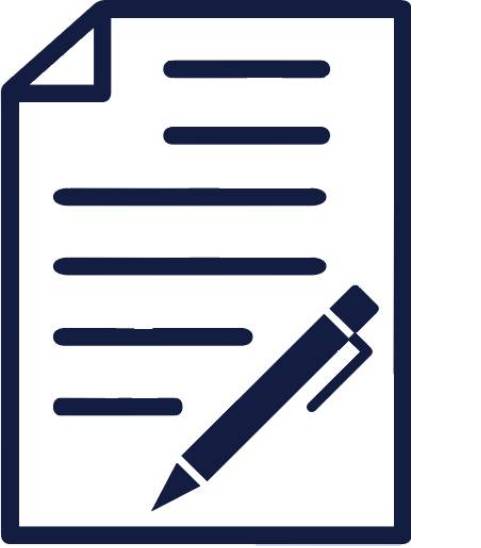 What is Timber Cladding
Benefits of Timber Cladding vs Composite
Best Exterior Cladding Timber Type
Tongue & V-Groove
Shiplap Profile
Feather-edged Cladding
Best Timber Cladding Profile
Western Red Cedar
Siberian Larch
European Oak
Thermowood
Treating Timber Cladding
When Should You Install Timber Cladding?
Timber Cladding Lifespan
The term Wall Cladding refers to any material or component which is then fixed to a structure. Cladding refers to the pre-formed materials or panels when installed on the exterior of a building.
Timber Wall Cladding Boards are made using natural timbers, creating an attractive and quality Cladding Board. Wood Cladding is available in various timber species, including hardwood, softwood, Western Red Cedar, Siberian Larch, and more.
Timber Cladding is a common and attractive finish for both residential buildings and commercial.
Benefits of Timber Cladding vs Composite
While timber cladding is extremely popular due to new inventions, findings, and modern technology, more and more Cladding replacements have come into play.
Composite Wall Cladding is becoming a close competitor to traditional timber in recent years, thanks to its sustainable amalgamation of wood fibres and plastic, creating a low-maintenance, attractive external Wall Cladding Board.
Benefits of Timber Cladding:
Weather Resistant - Timber Cladding can withstand most weather conditions.
Attractive Appearance - Timber Wall Cladding has an attractive natural look, with no two boards looking the same.
Some Treated Timber can be resistant to Rotting.
Cost-effective - Timber is normally cheaper than alternative materials.
Longevity.
Can easily cut to length.

Disadvantages of Timber Cladding:
Heavy Maintenance - Timber often requires annual maintenance of sanding, varnishing, and staining - which can be costly and laborious.
Not UV-resistant.
Timbre can warp, rot and crack.
Expansion and contraction.
Available in natural wood colours and tones only.
Colours may fade quickly.

Benefits of Composite Wall Cladding:
Low-maintenance - Does not require sanding, varnishing or staining.
Environmentally friendly using sustainable sources of recycled plastic and FSC accredited wood fibres.
Easy to cut to suitable lengths for your projects.
UV resistant - It should not fade over time - if it does fade, this should only give the Boards an attractive weathered look.
Rot, Warp, and Splinter resistant.
Bug resistant.
Available in eight attractive colours.

The below House has been Cladded in Cladco Composite Cladding Boards in Stone Grey.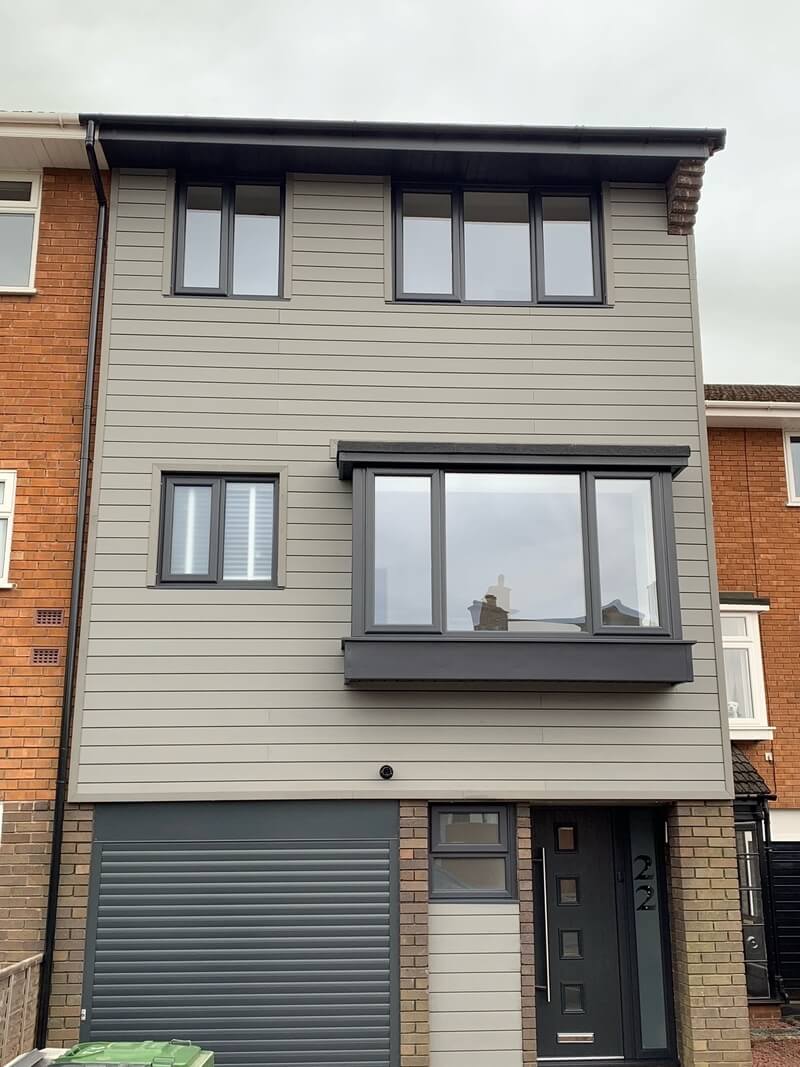 Disadvantages of Composite Wall Cladding:
It can look slightly plastic compared to traditional wood claddingf
Costly - Often more expensive than wood
Cannot easily paint or change the colour of Composite Cladding
The Best Exterior Cladding Timber Type
When adding exterior timber cladding to your home, you want to ensure you are installing high-quality products. With many Cladding building options on the market, you want to ensure your choice looks nice, works well for your building, and is cost-effective. Find out what the most suitable Cladding installation is for your cladding projects below.

TONGUE & V-GROOVE
Tounge and V-Groove installation methods are a common and easy way of fixing Wall Cladding Boards. This method allows Boards to be installed either vertically or horizontally with ease.

The boards fit together with ease and giving a neat and simple look. The tongue ( the protruding section) and the Groove (the slot) fit together without the need for lapping Boards.
Tongue and Groove also benefit from providing weather-proofing and is one of the most popular installation methods.
The below images show Cladco Composite Wall Cladding Boards in Teak, installed horizontally with the Tongue and Groove method.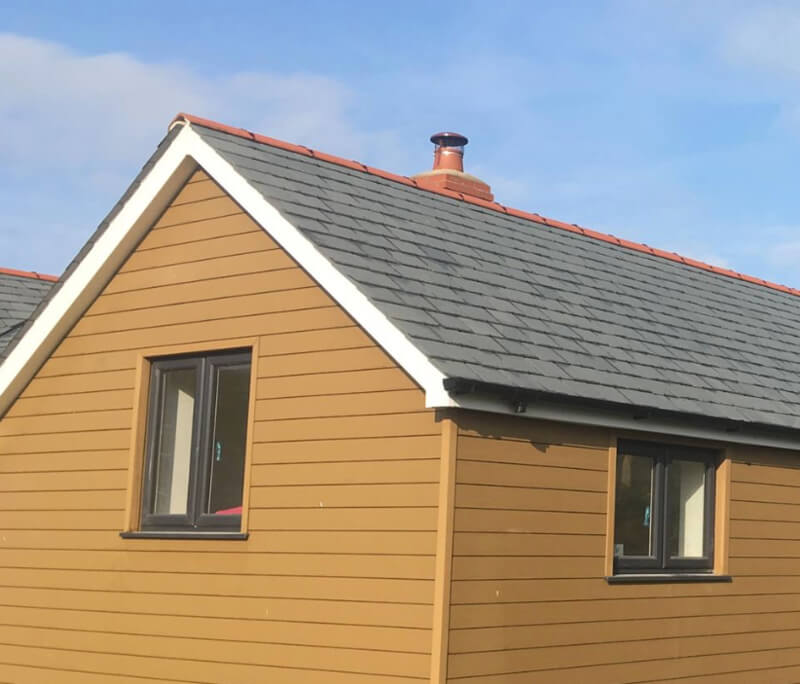 SHIPLAP PROFILE
Shiplap Profile is similar to the above Tongue and Groove option. Both have a tongue and groove fit. However, Shiplap has a slightly longer lip, which can improve the water protection qualities of the timber cladding. Using this style of profile for your building can help protect your building from the elements.

FEATHER-EDGED CLADDING
Feather-edging or Feather Boarding Wall Cladding gives a more traditional aesthetic to your Cladding project.
The Boards are cut at an angle and then layered on top of one another, creating a pleasing layered effect often seen in barn conversions and old-style agricultural buildings.
Cladco Fibre Cement Wall Cladding Boards at 3.66m length are installed using the Feather Boarding technique. This house has been Clad using Cladco Profile Fibre Cement Wall Cladding in Blue for an attractive design.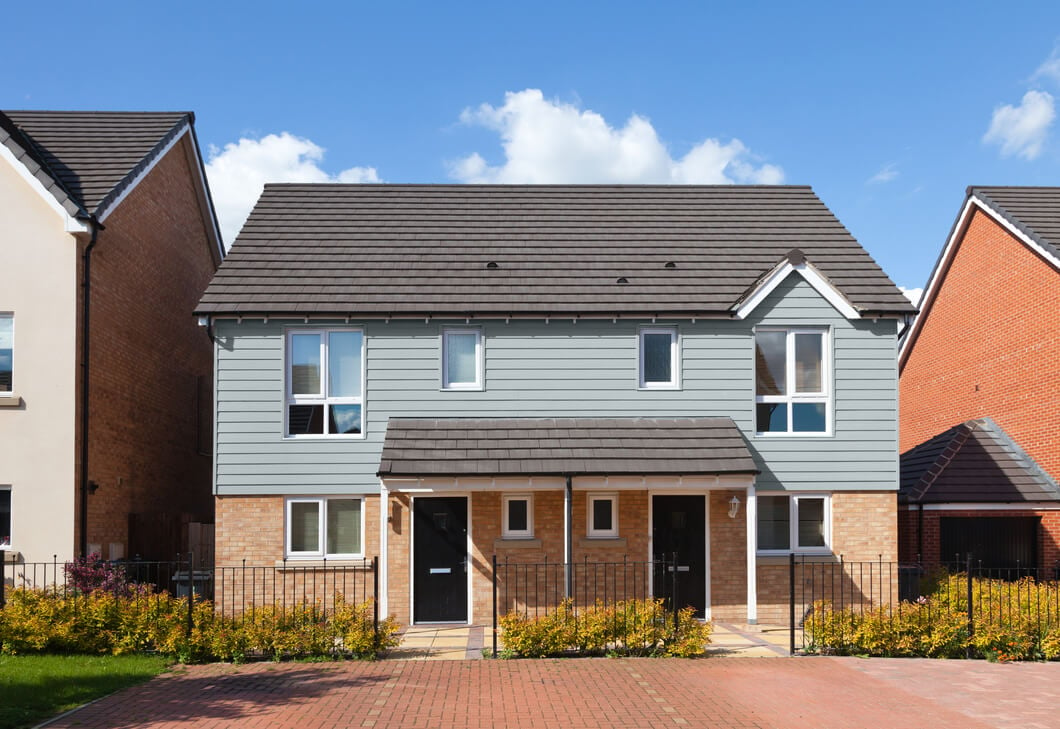 The Best Timber Cladding Profile
There are over 60,000 types of Tree species in the world, but not all timber is the same. Some have good durability, with increased moisture, rot, decay, and insect resistance, as well as being flexible, attractive, and have a long lifespan.

WESTERN RED CEDAR
Western Red Cedar is an attractive Softwood that creates a range of Wall Cladding products, often used in building works such as a timber-clad house. Western Red Cedar Wall Cladding is usually sourced from the center of the tree, giving the timber naturally occurring resistance to rot and decay.
Average weight:10.5kg per Wall Cladding Board
Colour: Varies between red to pink and brown to dark brown
Grain: Straight Grain, with a medium coarse texture.
Rot Resistant - Very high

SIBERIAN LARCH
Siberian Larch is a popular softwood timber species. The wood is harder than Cedar and has increased scratch resistance compared to other species. Giving an external-clad home a warm, yellow aesthetic.
Avg. Weight - 575kg/m3
Colour - Pale Yellow to Light Brown
Grain - Either Straight or Spiralled with a medium-fine texture
Rot Resistance - Moderate

EUROPEAN OAK
A popular hardwood, this high-quality timber can be used for varying projects and can be left stained or unstained. The wood is incredibly durable and gives a beauty of a timber aesthetic to either Decking, Cladding, or other projects.
Avg. Weight - 672kg/m3
Colour - Golden Brown
Grain - Straight grain with a coarse, rough texture
Rot Resistance - Very high

THERMOWOOD
A slightly denser species of wood compared to Larch and Western Red Cedar. Thermowood products provide stability, with less expansion and contracting than different timber products available on the market.
Avg. Weight: 480kg/m3
Colour: Dark Brown
Grain: Straight grain, with a medium-fine texture
Rot Resistance - Moderate
Once you have installed your Timber Cladding to the exterior of your home. The finish, treatment, and maintenance of your selected material. Some choose to allow their Cladding to finish naturally by leaving the design to be finished by the elements. Having an attractive weathered, rustic look.
However, you can do things to service and maintain your Cladding to help slow down the weathering period.
Protective paint - Coating your Cladding in acrylic-based paint, while it may have the wood grain, replacing the details with a solid colour. The thick paint should protect your timber from gradual deterioration.
UV protectant - applied with a brush or cloth. This treatment is a strong UV protection treatment that should penetrate the wood's pores, shielding them from UV rays. Available in a range of tints to ensure the details of your woodgrain are not covered. This tint will need to be reapplied to your project every couple of years.
When Should You Install Timber Cladding?
While you can add Cladding to your home all year round, it is best to undertake your timber project between October and April. Installing your Cladding in the cooler months helps the Boards acclimatise without shrinking, warping, or curling in the heat. While installing your Timber Wall Cladding any time of the year, it is recommended to fit it when the heat doesn't cause the Boards to warp or react.
If properly installed and maintained, naturally rot-resistant and durable wood, such as western red Cedar, European Oak, and Siberian Larch, can last for around 30 years in the UK climate. This time can extend depending on the treatment and maintenance of the Boards.
While Timber Wall Cladding is an attractive addition to any project, Cladco Composite or Fibre Cement Wall Cladding Boards are a high-quality, cost-effective alternative to traditional lumber. Composite and Fibre Cement Wall Cladding Boards are low-maintenance, attractive material available in a range of colours.
Find out more about the Cladco Cladding range, or speak to a team member on 01837 659901.