Last updated: 21st March 2023
Choosing the correct type of wall cladding will mostly come down to style and appearance. It is also important to consider cost, quality and materials when shopping around. In this house cladding guide, we look at a wide range of cladding options and their benefits and aesthetic properties.
Cladding describes any material that covers the outer wall of a building. It can be attached either directly onto the walls or fixed to supporting battens. Applying wall cladding can offer extra protection to the exterior of a home or commercial building and transform its entire look.
Several cladding options are available on the market, from timber cladding to fibre cement and tile cladding. Each provides its own unique benefits.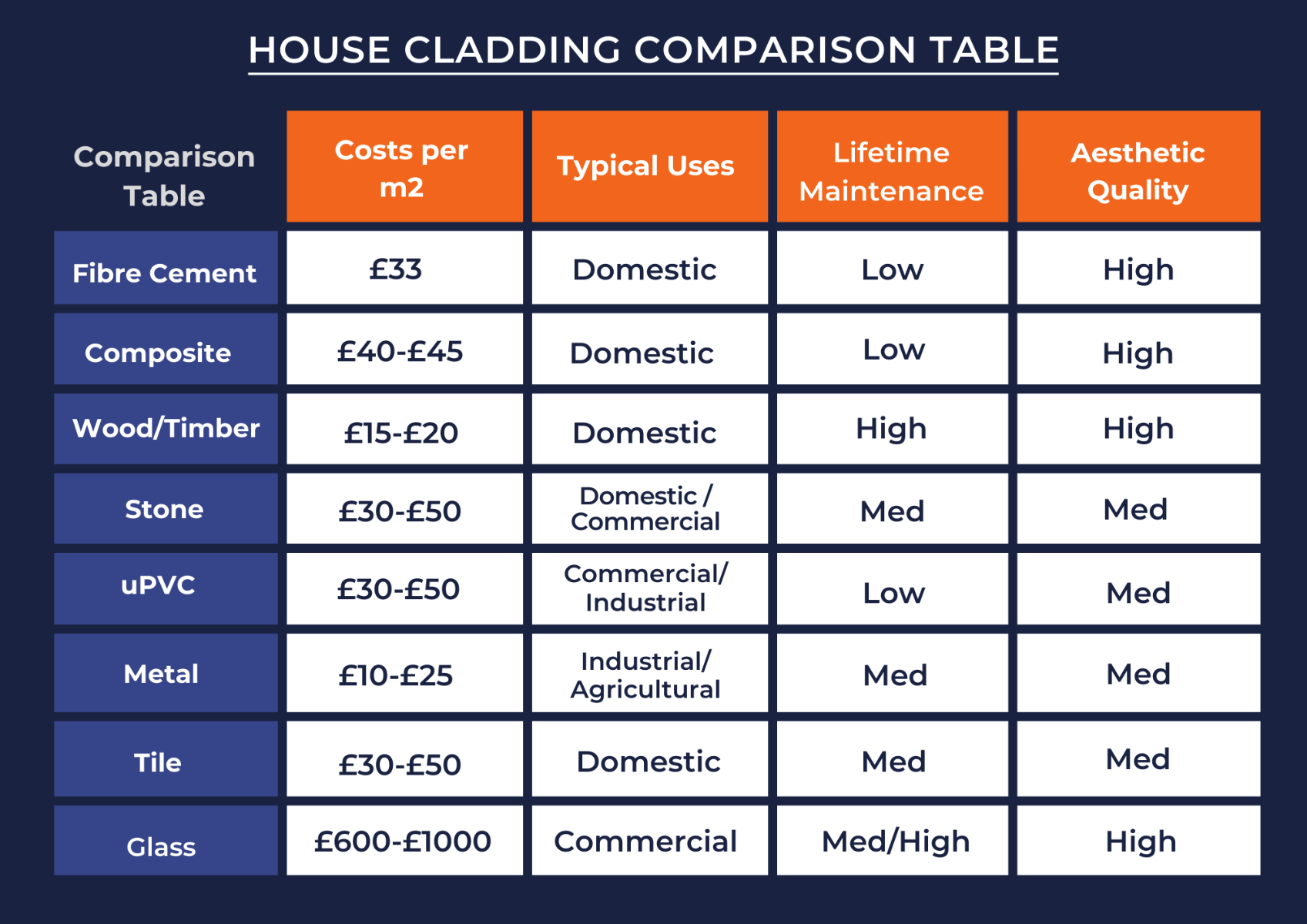 If you are looking for a cost-effective cladding option, wood or metal materials would be a good first choice. If the aesthetics for a domestic build are a priority, then Fibre Cement, Composite or Glass are fantastic options. Finally, if you are looking for a low-maintenance install-and-go cladding material, then uPVC is ideal.
Read on to learn more about each option.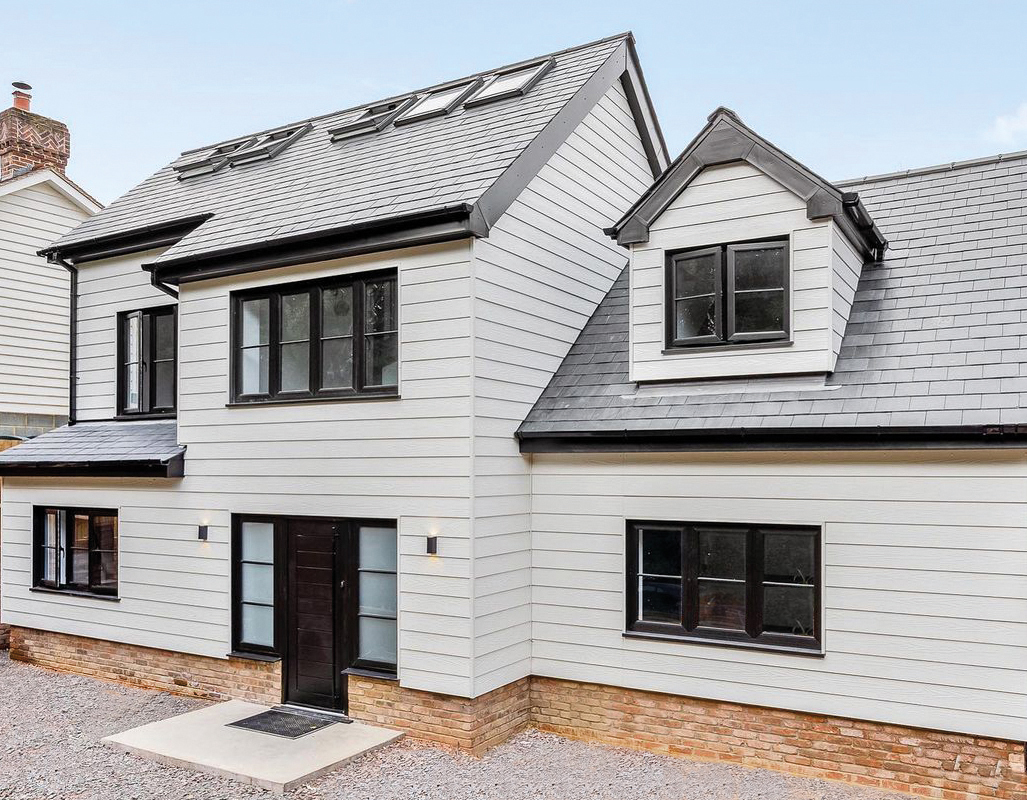 House clad in Fibre Cement Wall Cladding by Cladco
Fibre cement cladding materials are made from a combination of sand, cement, cellulose fibres and water.
Fibre Cement Wall Cladding Boards by Cladco give a house a high-quality finish and feature a subtle woodgrain effect texture on their surface. This is a low-cost cladding type that also boasts minimal maintenance, so upkeep costs are minimal.
Fibre cement wall cladding is often installed on domestic homes and delivers a durable and easy-to-maintain finish
Fibre cement cladding is a composite material made from a mix of cement, cellulose fibres, clay, iron and limestone. Sand improves the boards' resilience to harsh weather conditions and natural fire resistance.
Fibre cement boards are an easy-to-install cladding option and are fitted using a simple feather board technique.
This type of cladding has good weather resilience, with minimal expansion and contraction in hot or cold temperatures. Boards are available with a textured wood grain surface that recreates the look of timber, with more colours to choose from.
Expect to pay anywhere from £27.50 per square metre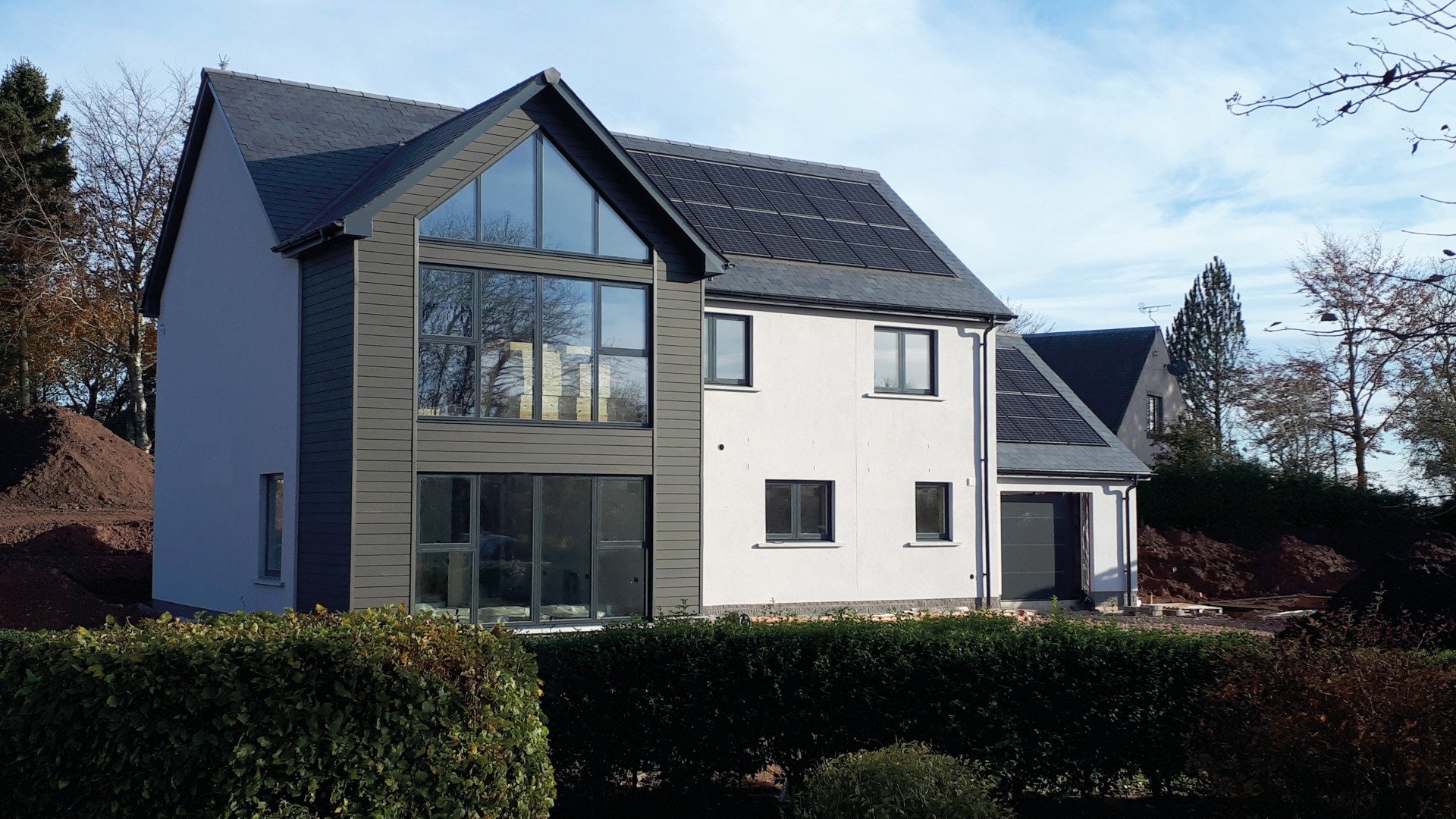 House clad in Charcoal, Composite Wall Cladding by Cladco
Composite cladding is manufactured from a hybrid of wood and plastic. It has become an increasingly popular cladding material in recent years. Cladco Composite Wall Cladding is a high-quality composite option and is available in a selection of eight colours. It also comes in both woodgrain and original finishes to suit your home.
Composite cladding is a popular choice for homes looking for an external refresh. Many people choose composite cladding as it can be installed horizontally or vertically. It also protects the exterior or render on a property.
Cladco Composite Wall Cladding is made from 60% FSC® Certified recycled wood fibres and 40% recycled plastics. This makes for an environmentally-friendly and durable cladding material.
Composite is one of the most adaptable external cladding materials on the market. It can be cut to custom lengths with basic woodworking tools, and finished with matching Composite Trims and Fascia Boards.
There's also no need to sand, varnish or paint composite cladding boards. This makes them low-maintenance when compared with real wood cladding.
Expect to pay from £40 per square metre.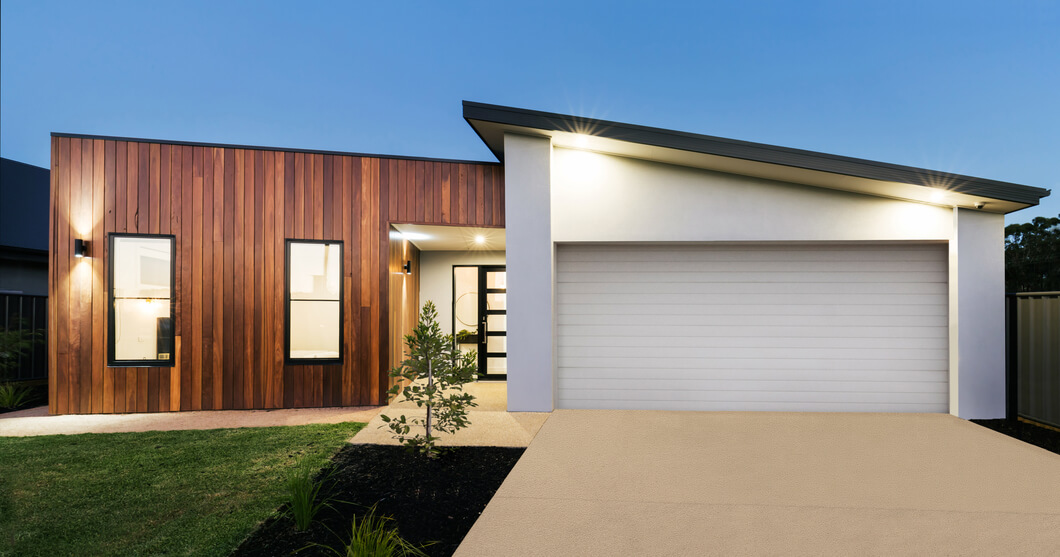 Timber cladding is one of the most natural materials cladding can be made from. When applied to the outside of a home it can add rustic appeal. Although easy to install, timber cladding will need annual treatment and maintenance to keep it looking new. From a structural point of view, timber is very stable and is popular with conventional designs.
Timber cladding has proven to be one of the most popular cladding in recent years due to its versatility and natural properties. It is one of the most environmentally friendly and reusable exterior cladding systems available on the market.
Timber cladding can be used either indoors or outdoors, creating a natural and warm aesthetic for a home.
Available in a variety of colours and styles, timber offers a range of options for both traditional and modern cladding designs.
Wood cladding can be installed vertically, diagonally or horizontally depending on the style you are aiming for.
Expect to pay from £40 per square metre. Prices can vary depending on material and labour costs.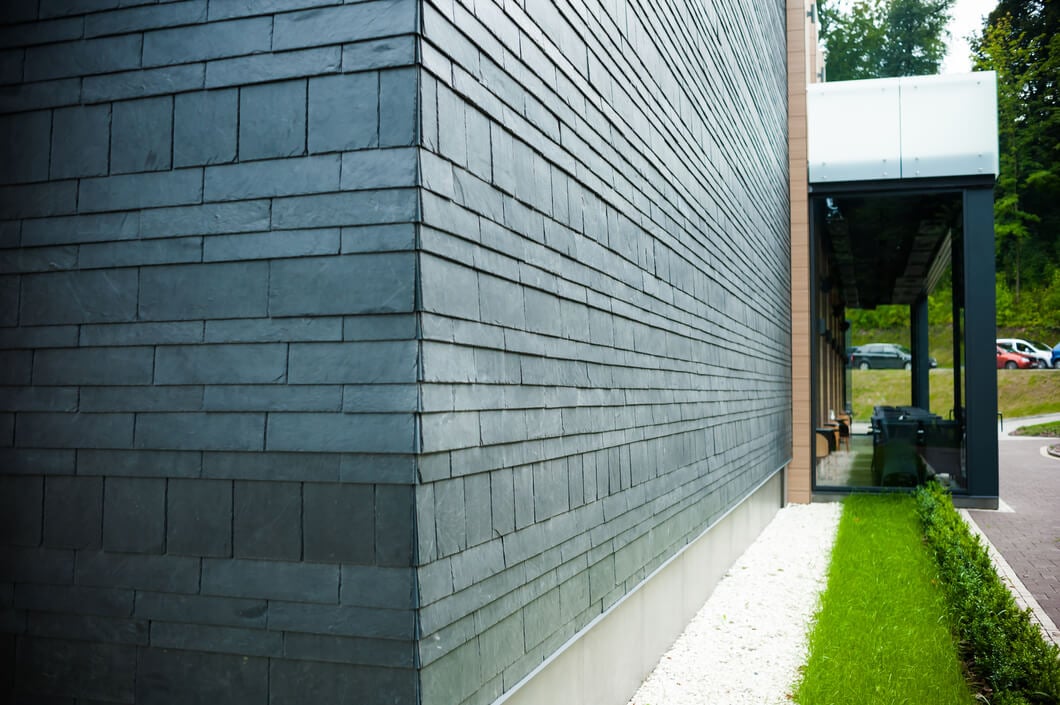 Layers of natural stone make up this external house cladding type. Stone creates a rustic exterior, popular with houses located in more rural settings. The many variations of stone cladding also make it a popular choice on new builds that are looking for a different finish to neighbouring properties.
Stone cladding is a good option for a domestic property, providing a more traditional aesthetic for the exterior of a house.
Stone cladding is a great choice for buildings that are exposed to harsh weather throughout the year. The natural properties of stone reduce the risk of dampness and water leaks.
Stone cladding can include several natural stone materials, such as marble, sandstone or slate. In recent years, more people have been choosing a lightweight alternative in the form of simulated stone veneers. These achieve a similar look that is more cost-effective to buy and easier to install onto solid walls.
Stone comes in various sizes, textures and cuts and can be installed in uniform lengths or random patterns.
Expect to pay from £50 per square metre for faux stone cladding and real stone cladding will be noticeably more due to the craftsmanship required to fit it.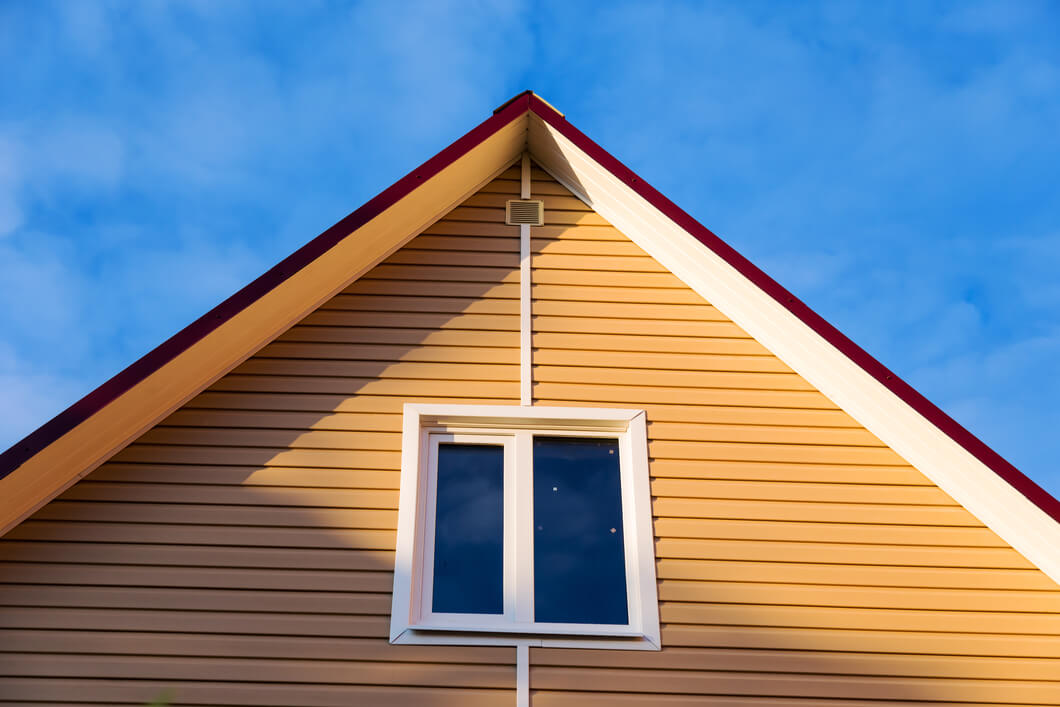 UPVC or PVC Cladding is an affordable cladding option that requires minimal maintenance and is quick to install and repair if needed. It is typically seen on holiday properties and portable rental homes where cladding can be applied for consistency on a budget.
uPVC (Unplasticised Polyvinyl Chloride) is one of the cheapest cladding options on the market. It proves to be a popular choice due to its vast colour range and lightweight properties.
uPVC is easy to maintain and requires very little upkeep over its lifespan. Once installed, a simple wash with warm water and a brush are generally all that's needed.
Offering beneficial properties, such as being fire resistant, uPVC helps to prevent the spread of fire. As well as this it is UV protected to prevent the boards from fading with sun exposure (be sure to check the manufacturer's product information).
uPVC can also provide additional thermal insulation properties.
Expect to pay anywhere from £30-£50 per square metre.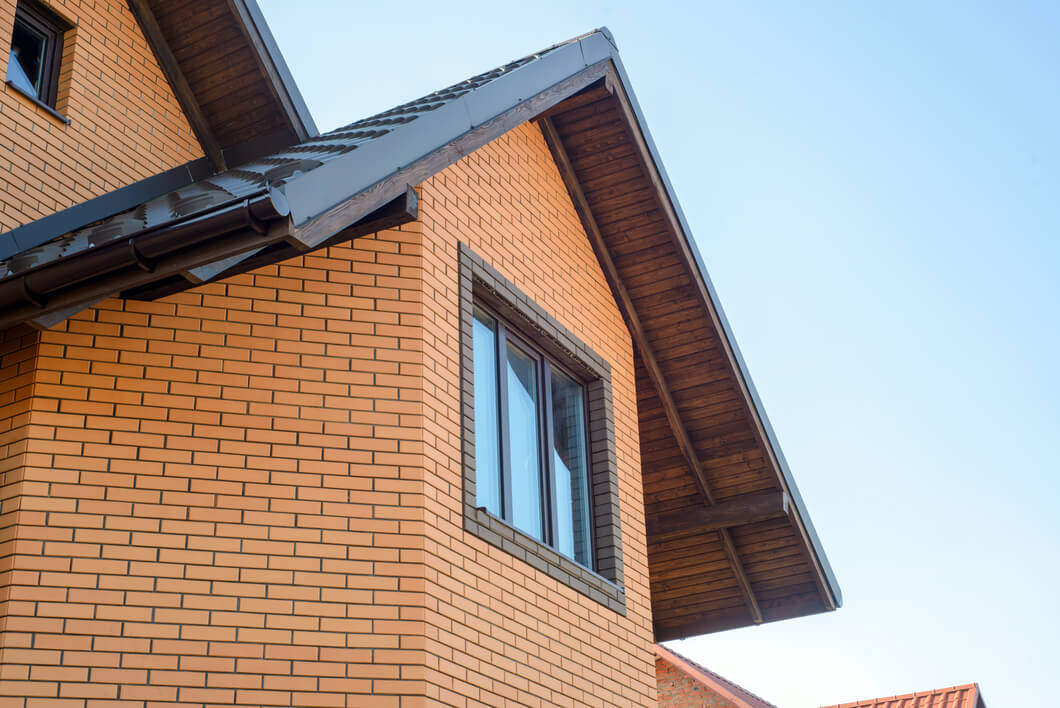 Brick cladding panels can transform a house, with choices available to suit any architectural style. You might choose brick if you are looking to replicate a popular pattern or to simply protect the outside of your home from damage or weathering.
When installed on exterior walls, brick cladding can recreate the same appearance as standard red bricks. They also have the added bonus of installation convenience. Provided in large panels, this cladding type can be customised to suit your home
Brick cladding comes in a variety of colours and styles making it a popular choice for homeowners.
Brick cladding can create a modern, long-lasting wall exterior.
Expect to pay from £35 per square metre.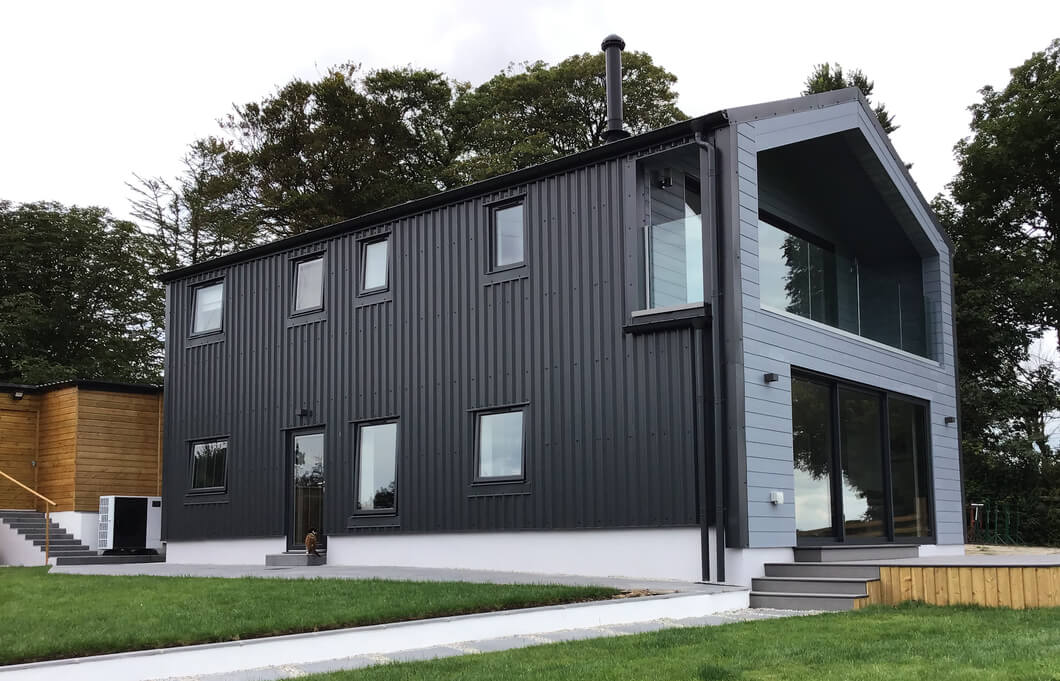 Metal cladding materials can often be found on agricultural and commercial buildings. They offer an easy-to-clean metal surface that reflects the industry it represents.
Cladco Roofing supplies Metal Cladding Sheets that create a modern alternative to traditional materials such as timber. Sheets are available in a range of coatings and colours to suit your budget and project. Choose from scratch-resistant PVC plastisol, smooth polyester paint, or plain galvanised steel sheets.
Metal cladding is often used to cover industrial and agricultural buildings. More recently, it has become a popular choice for cladding large domestic buildings like barn conversions.
Steel and aluminium are popular metal cladding materials. When paired with a coating, many other colours and finishes are available.
Metal cladding can provide extra protection from fire as a non-combustible material. Aluminium is mostly chosen for this purpose alone.
Metal cladding provides a good level of insulation for the building. It is a long-lasting material preferred for more significant working buildings.
Expect to pay anywhere from £15 per square metre for plain galvanised, and £25 per square metre for PVC Plastisol.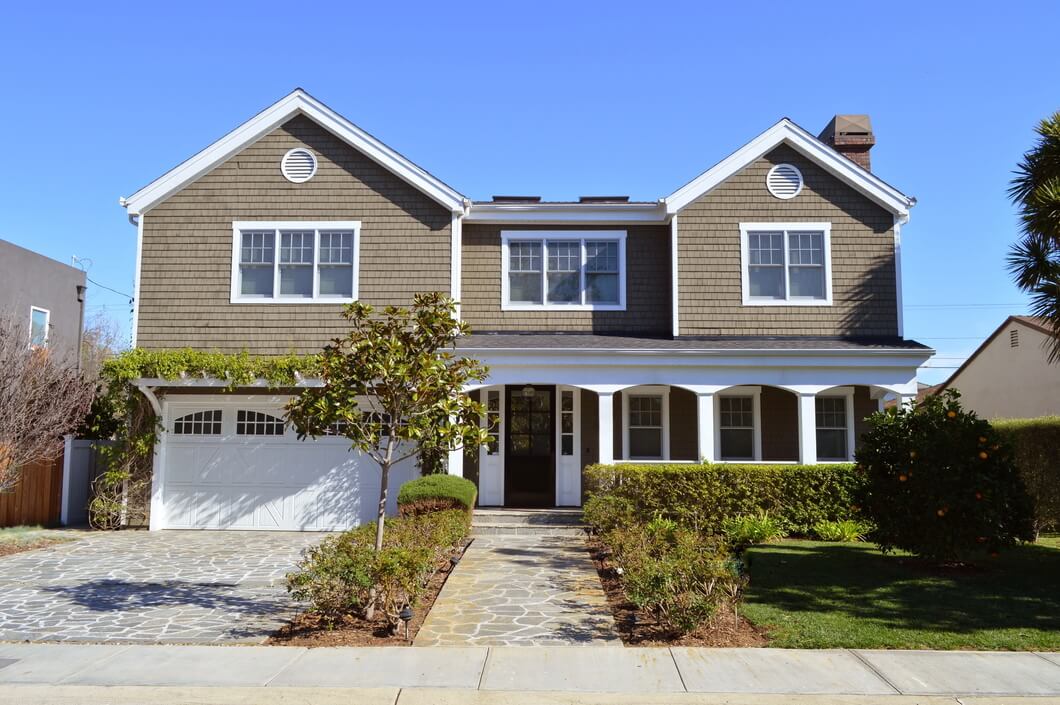 Tile is a popular choice for homes looking to stand out and increase curb appeal. Tile cladding provides insulation and protection from the elements. It can be manufactured from manmade or natural materials such as plastic or slate/clay.
Tile cladding panels are commonly seen on internal applications but are also popular on external walls. Tiles can be customised to create different patterns or simply one uniform pattern across a building.
A variety of colours and finishes makes this type of cladding very adaptable for creative applications. Hanging tiles can give a more traditional appearance, but can come with a higher price tag (£55+ per square metre).
Handmade tiles can give a building a more modern appearance, increasing expenditure on the initial outlay.
Insulation properties make the tiles the ideal choice for colder climates.
Expect to pay from £28 per square metre (price depends on the style and finish)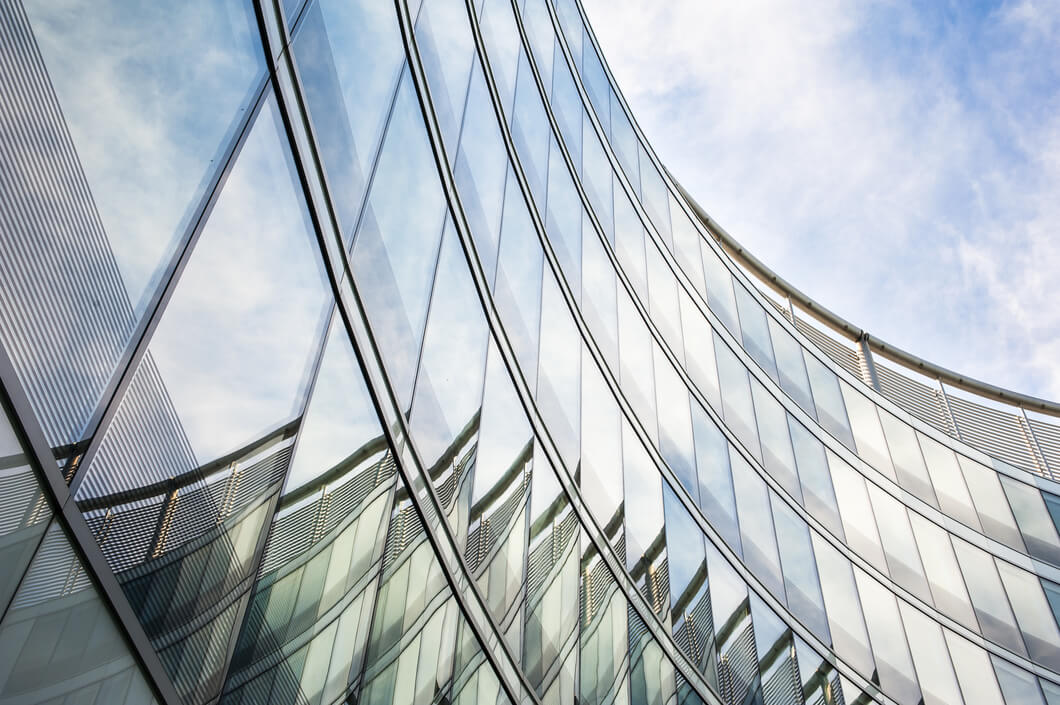 Glass cladding is a modern aesthetic that allows plenty of natural light into the building. Glass cladding is a pricey option per square metre compared with other materials, however, they are low maintenance and long-lasting making them more of an investment in the long run.
Glass cladding has proven to be a popular choice for architects looking to make a statement on a building. From the Louvre Museum in Paris to The Shard in London, glass cladding is commonly applied to a business or commercial project for prominence and style.
Glass cladding is low-maintenance and usually only requires annual cleaning. Glass cladding is a popular choice for large buildings as it doesn't warp or change shape over its lifetime.
Lightweight panels mean glass cladding can be installed easily on support battens, and custom shapes are easy to achieve.
Expect to pay from £600 per square metre.
The choice of cladding for your home will come down to how you want the exterior of your home to look, its performance and the quality of materials. Choose the cladding type that best suits your budget and application. Be sure to gain professional advice before choosing or installing your cladding.
Have a question about Fibre Cement, Composite, or Metal cladding? Call us on 01837 659901 or email [email protected] for product advice and support.