3m Fibre Cement Wall Cladding Symmetric External Corner Trim
When Cladding your home in Fibre Cement Wall Cladding, make sure the corners of your building are properly protected. External Corner Trims are colour matched, robust and durable for a high-quality, long-lasting installation.
External Corner Trims – Fibre Cement Wall Cladding Trims
To ensure your installation is fitted correctly, Cladco Provide a range of Aluminium Trims designed specifically for a variety of purposes. Cladco Aluminium External Corner Trims are used on the corners of your building or on any Cladded 90° angle.
External Corners are designed to give a clean edge to the look and help protect the Boards and Corners from damage.
Trims are fitted to the structural Battens on either side of the corner using the Fibre Cement 38mm Screws. The Fibre Cement Wall Cladding Boards can then be easily fixed to the flat edges of the External Corner Trim by screwing the Boards through the Trim to the Batten below for a seamless, attractive installation.
For more information about installing the External Corner Trims, see our easy-to-follow installation guide here.
The External Corner Trims are manufacturing to order with high-quality aluminium in seven colours to match your Wall Cladding. The Aluminium material creates a rust, stain and corrosion resistant product. The Aluminium Trims are low-maintenance and do not need any sanding, painting or staining before installation.

Weight: 1.53kg
Thickness: 1mm
Length: 3m
Measurements: 35mmx35mm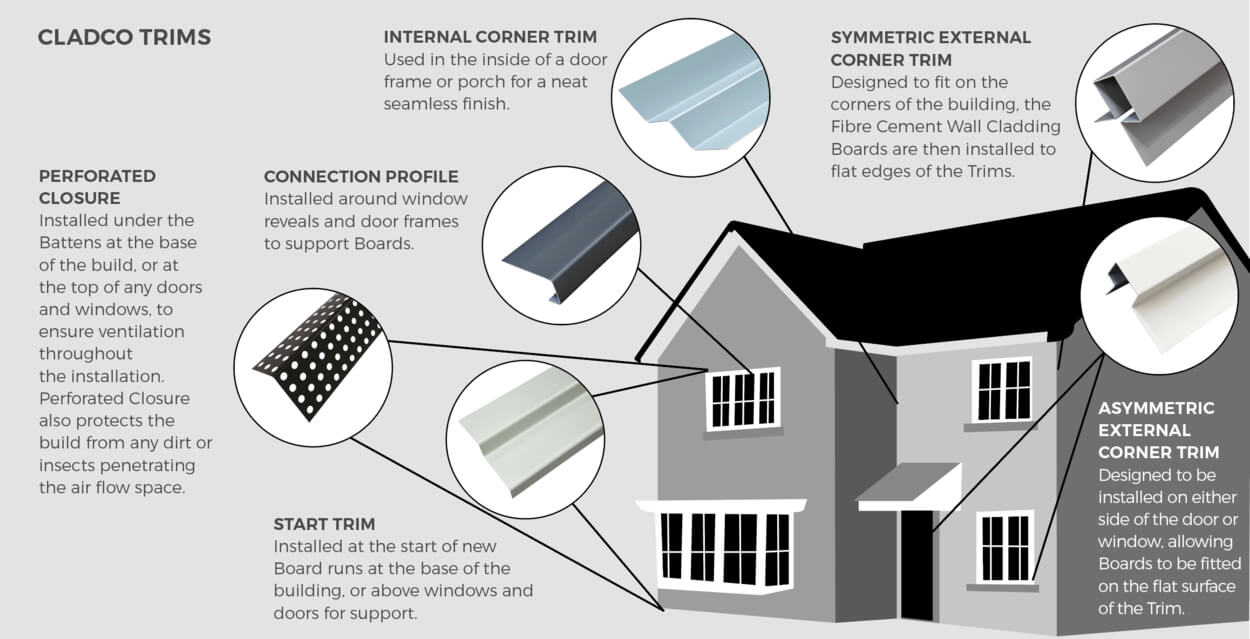 * Please note actual product received may differ from the images shown.
Please click on the variable options on our checkout page.
Cladco offer a Nationwide delivery service (UK Mainland) We offer a range of options, please see the table below.
Useful Links: Delivery Policy | Collection Policy
Delivery
Delivery is estimated 10 working days (1-2 weeks).
Collection
Collection is from our Okehampton, Devon warehouse. Please note we need 2-4 working days noticed.
Sample Packs
Sample packs are sent via Royal Mail and delivered within 3-5 working days.
Delivery
TYPE
WHEN?
HOW MUCH?
Sample Packs
3-5 Working Days
FREE
Royal Mail


(Small Parcels)

3-5 Working Days
£3.95
Parcelforce Standard


(Small Parcels)

3-5 Working Days
£8.33
Parcelforce Standard


(Large Parcels)

3-5 working days
£30.00
Cladco Profile Delivery


(Orders under £500)

Estimated 10 working days
£192.00
Cladco Profile Delivery


(Orders over £500)

Estimated 10 working days
£96.00
Cladco Profile Delivery


(Scotland Delivery)

within 15 working days
£360.00
When your goods are delivered these are sometimes delivered on a pallet with the necessary associated packaging to ensure they arrive with you in the best possible condition. We view the pallet and packaging as necessary for the protection of the goods and therefore will be a part of what is delivered to you. It is your responsibility to dispose of these items in a responsible manner when appropriate.