Whether you are looking to add Decking to a large garden lawn, or a small urban outside space, choosing your Composite Decking colour is one of the most important decisions you'll make when it comes creating a Decking area that you'll love and enjoy for years to come.
Cladco Composite Decking comes in a range of eight different colours, giving you the freedom of choice when it comes to styling your garden, whilst allowing you to contrast or complement your existing colour scheme.
Cladco Composite Decking Boards are available in a variety of both natural and bold, more contemporary colours depending on what best suits your style.
LIGHT GREY/GREY/SILVER COMPOSITE DECKING
Light Grey as a colour has seen an increase in popularity as a design feature in recent years, with many interior and landscape designers opting for multiple shades of grey to create a neutral and modern twist to their works' aesthetic.
When it comes to Decking, Light Grey colour schemes are an easy way to ensure your garden project makes a timeless, modern statement that is in keeping with the rest of your home.
Cladco Light Grey Composite Boards are a bestselling product from our Composite Decking Colour options and are available in both Original and Woodgrain finishes.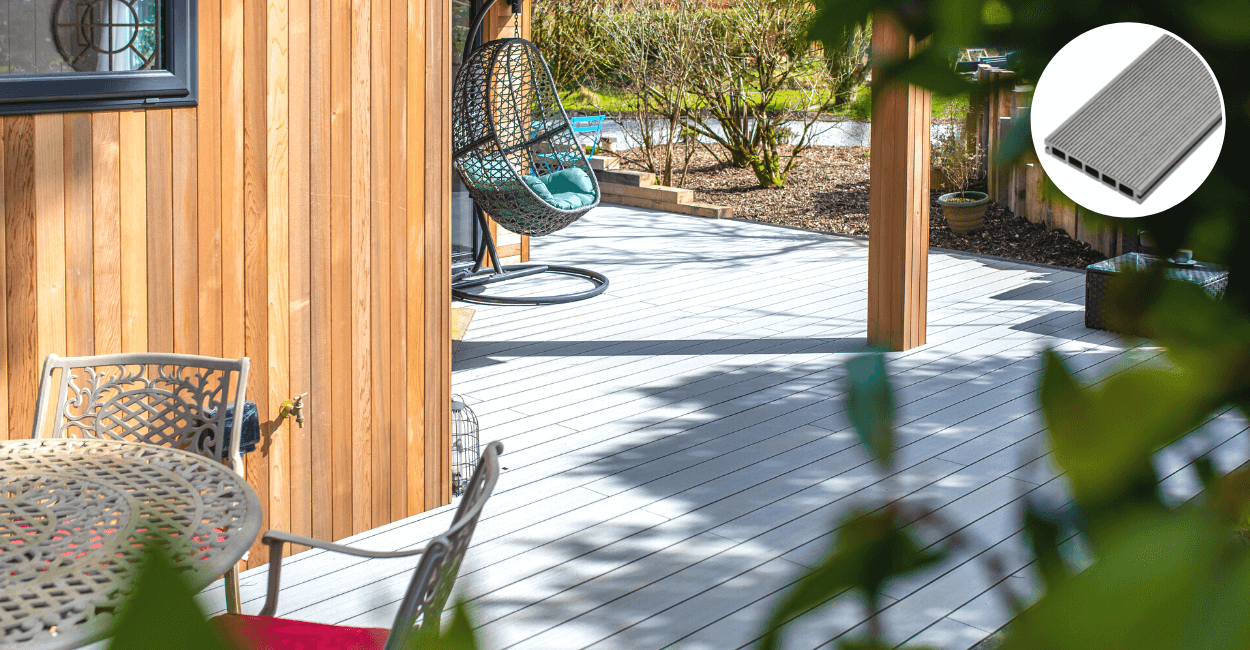 Cladco Light Grey Composite Decking in Original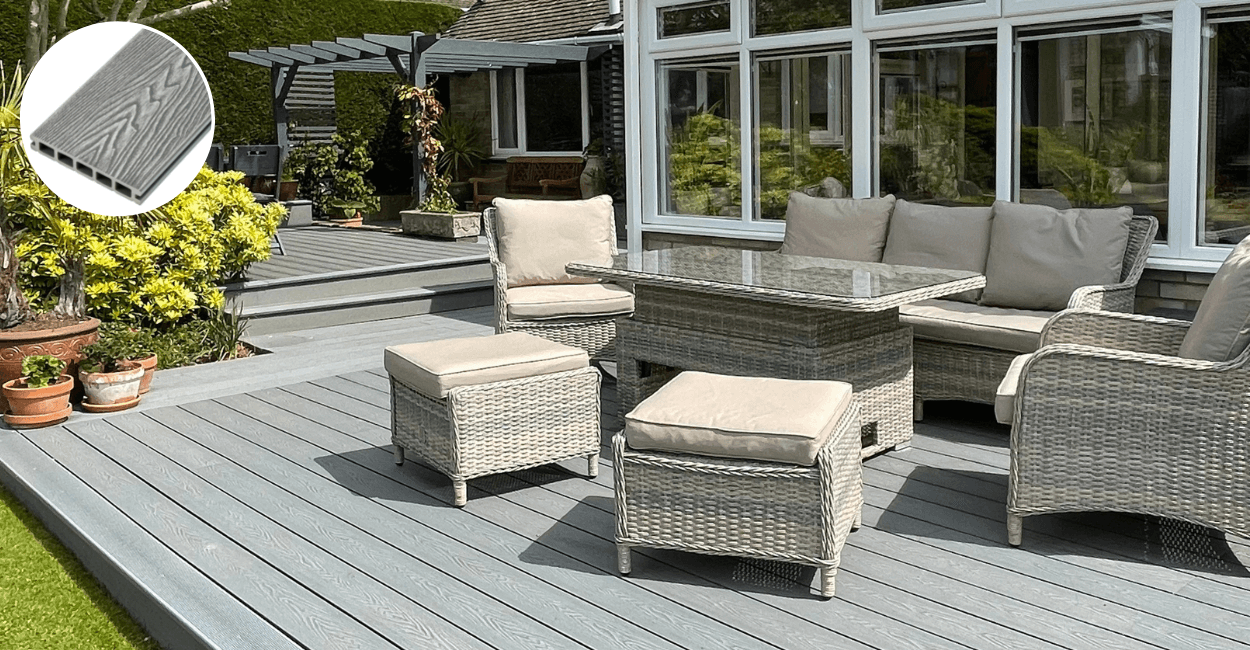 Cladco Light Grey Composite Decking in Woodgrain
CHARCOAL OR DARK GREY/BLACK DECKING BOARDS
If you're interested in a modern Scandinavian look, with darker colours for your Deck - choose Charcoal. Charcoal is one of the more popular colours from the Cladco Decking range, thanks to its very dark grey, but not jet black finish.
The unique dark shade conceals marks and contrasts well. In the picture below Light Grey Bullnose Boards have been installed around the edges of the Deck, creating a picture frame finish.
Order a FREE Sample to see the full range of colours here.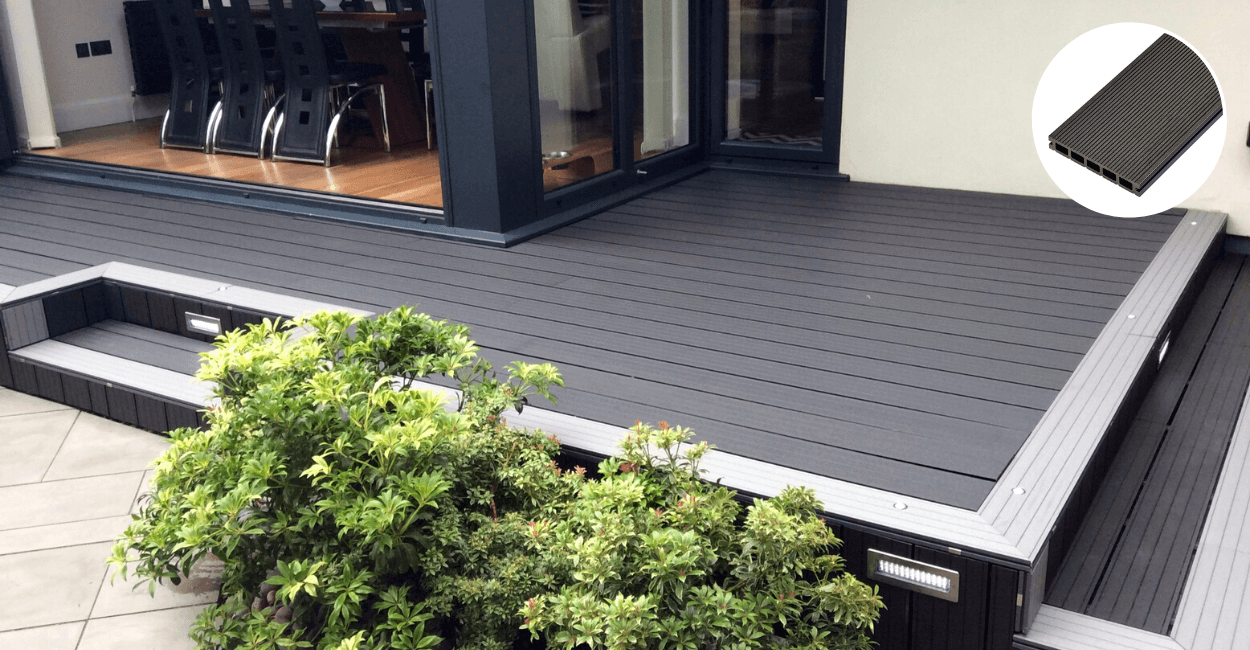 Charcoal / Black Composite Decking with Grey Composite Decking Bullnose Boards
STONE GREY/DARK GREY DECKING BOARDS
If you're looking for grey decking that sits somewhere in between Lighter Grey and Charcoal, Stone Grey Composite Decking is an ideal choice and is another one of the most popular colours Cladco stock.
The sleek, sophisticated finish of the darker shades of grey will suit almost any outdoor space in both summer and winter months, with the cooler colour making for a great alternative to the traditional, warmer brown shades of timber decking.
See our Grey Composite Decking post for further ideas or call the team today on 01837 659901.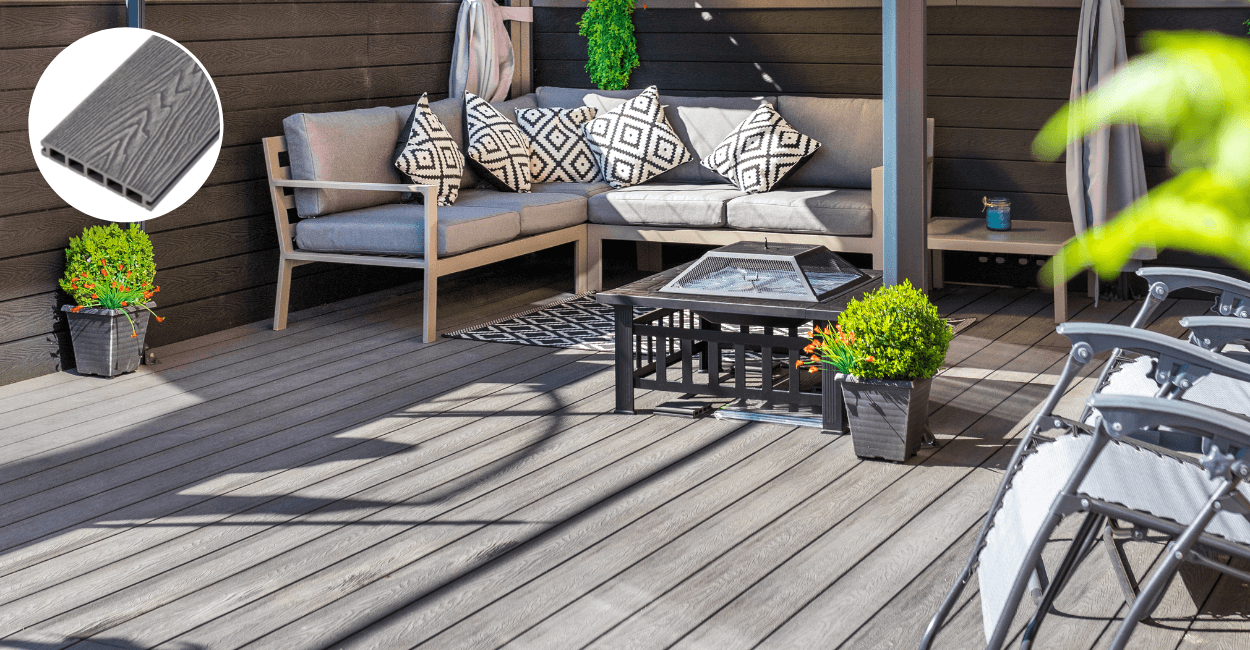 Cladco Stone Grey Deck Boards in Woodgrain for all outdoor spaces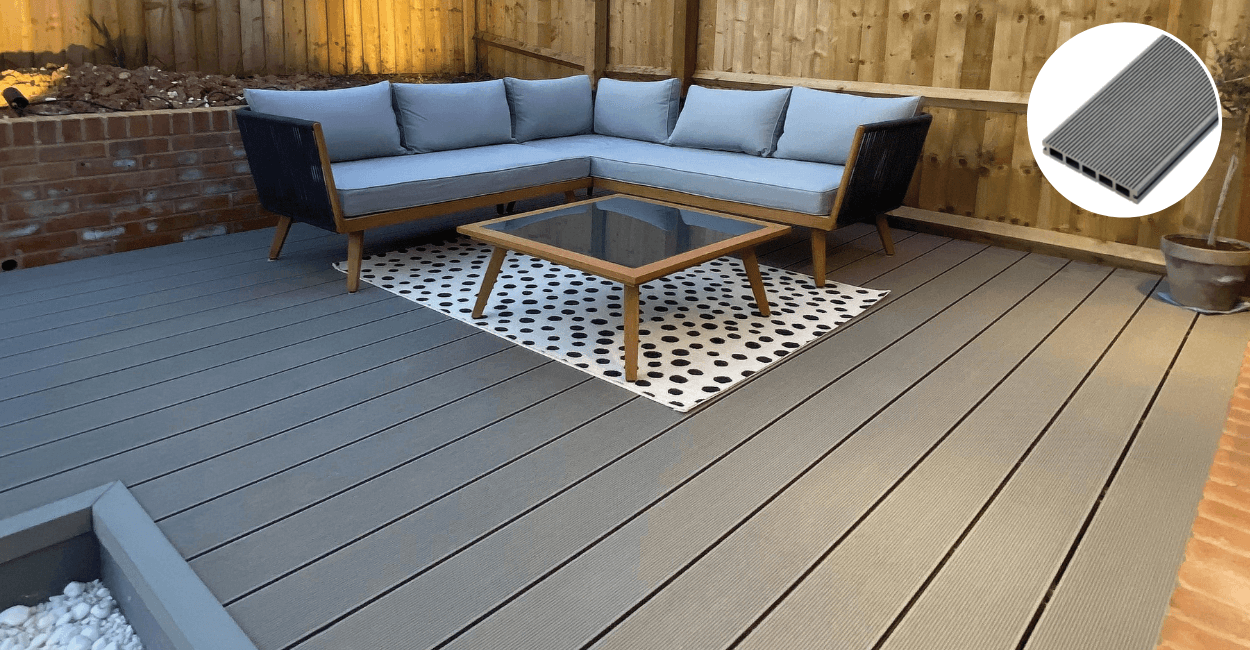 Cladco Stone Grey Decking Boards in Original
COFFEE/BROWN COMPOSITE DECKING
If you're after a more traditional style, with a wood-like colour for your project, but don't want the hassle of maintaining a real timber deck, then Coffee is the most suitable Composite Colour for you.
Cladco Coffee Composite Decking Boards have a luxuriant hue, with the deep brown shade replicating what is considered to be classic decking's "true colour". Coffee (or brown) Decking and its natural colouring will complement any house and garden style - and works particularly well in an outdoor, country environment with several trees and natural surroundings.
Find out more about this product, or order a FREE Sample here.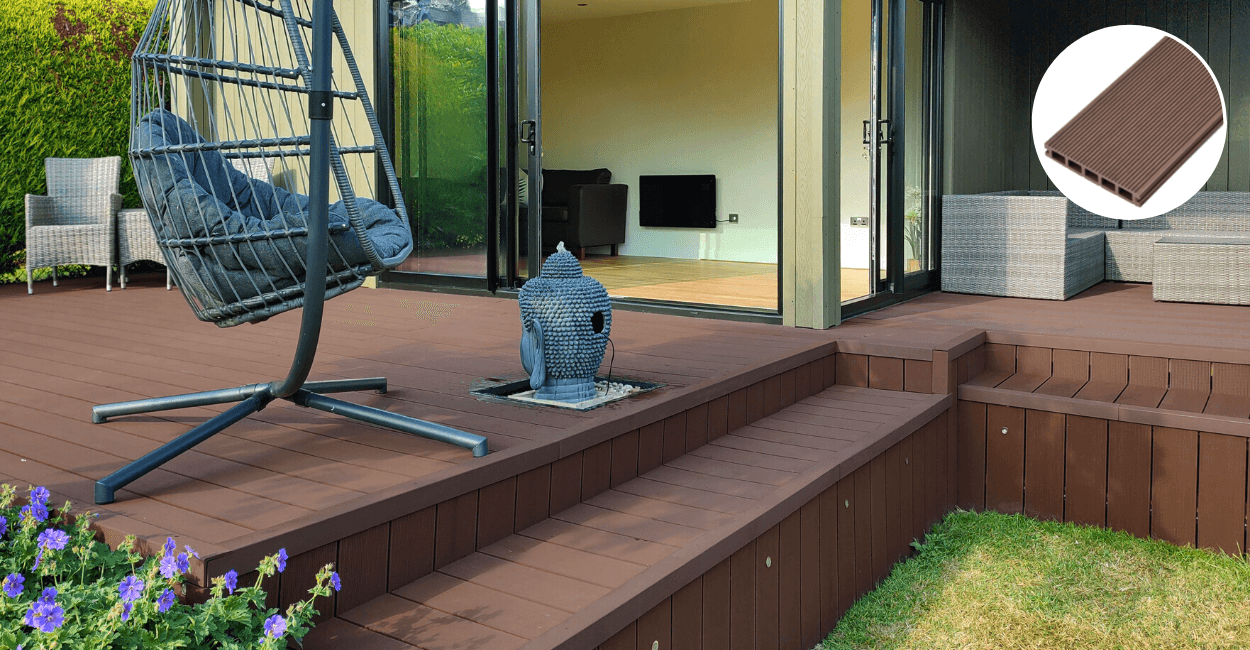 Cladco Coffee/Brown Deck Boards in Original Finish
Cladco Coffee/Brown Composite Decking with a Woodgrain texture
OLIVE GREEN/KHAKI COMPOSITE DECKING
Cladco Composite Decking colours range from the neutral, contemporary shades of Grey and Black - to the more rural colours of khakis, greens and Olives.
Each Cladco Olive Green Deck Board contains subtle, natural tints of green to lift their look -whilst still having a conventional timber-coloured theme.
The below customer projects have used Cladco Composite Deck Boards in Olive Green, with the subtle tones accompanying the adjacent grass and plants beautifully.
Find out more about this Olive Green Decking, or receive a FREE Sample Pack here.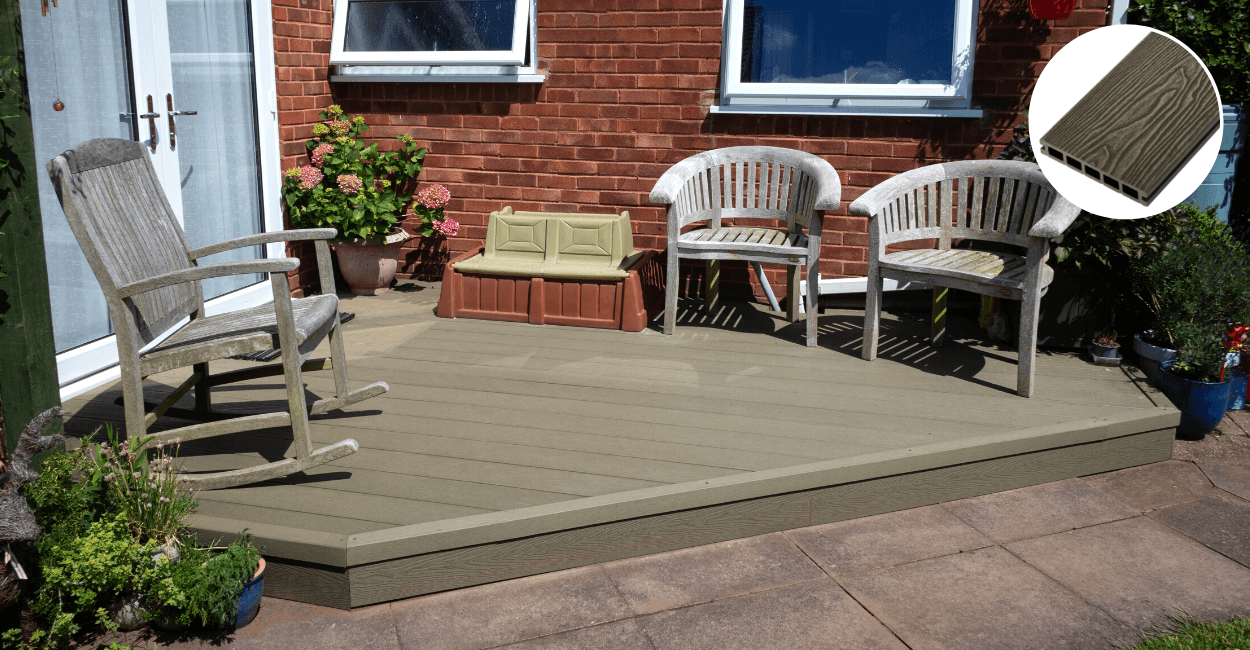 Woodgrain Composite Decking in the colour Olive Green by Cladco
Woodgrain Composite Decking in the colour Olive Green by Cladco

Cladco is one of the only companies in the UK that provide Redwood Composite Decking. The rich, deep colour of the Red Decking Boards offers a unique choice, producing a simple rustic look that is high-quality and low maintenance.
This outdoor space has used Cladco Composite Decking in Redwood to create a raised platform with a matching Balustrade and stairway. The Redwood colour is a great way to complement a home or building with classic brick walls on the exterior.
See more inspirational ways to use Redwood Composite Decking here.
Redwood Composite Decking Boards by Cladco - for a bold Decking Colour option
TEAK/NATURAL/LIGHT BROWN COMPOSITE DECKING
If you're still opting for a natural-looking deck, but aren't looking to go as bright as redwood, Teak is a perfect colour choice.
Its versatile, wood-like tone adds a soft look to your outside space, and if chosen alongside our Woodgrain Composite Boards, replicates the look and feel of real timber decking - with no need to sand, varnish, seal or paint year-on-year due to its wood/plastic material composition.
Teak Composite Decking Boards will suit any outdoor space, be it in a lawned garden, or a small urban space with less natural surroundings.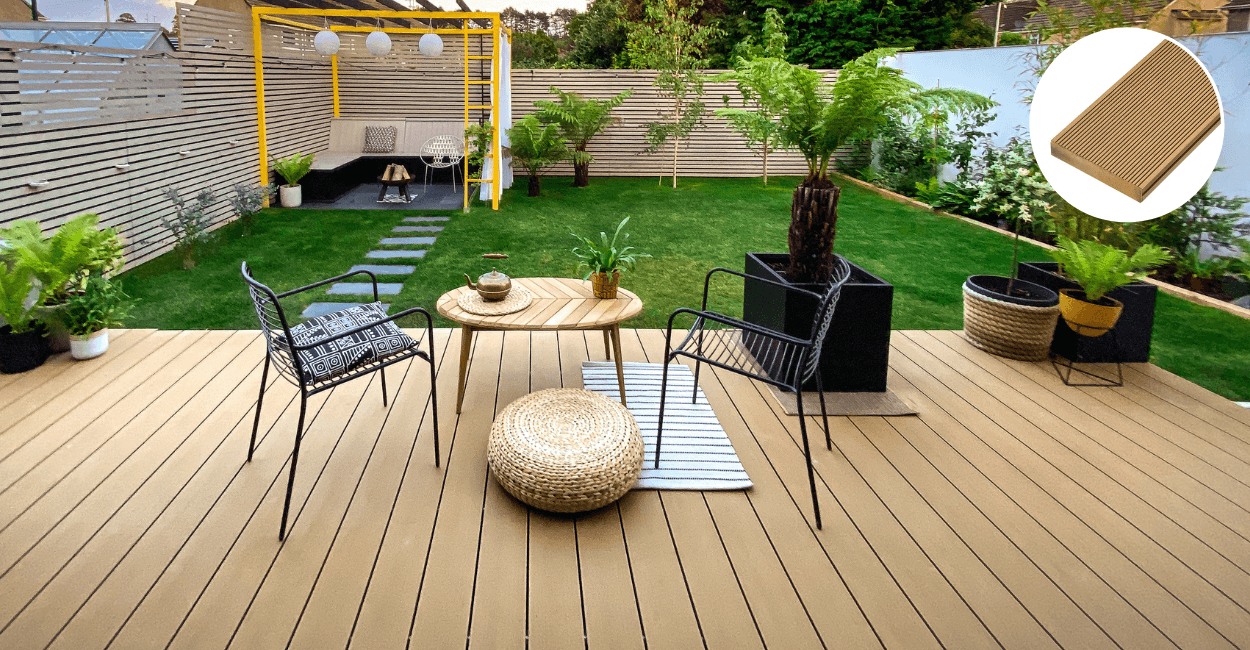 Wood Coloured Deck Boards by Cladco - for a more traditional look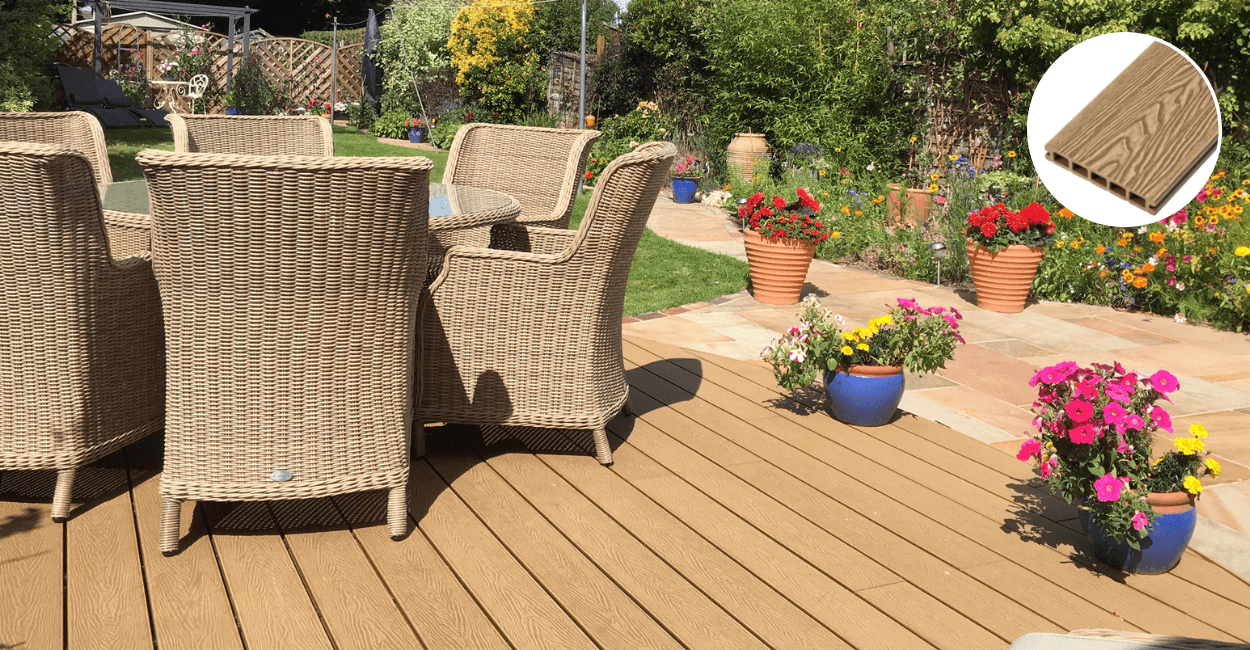 Cladco Woodgrain Composite Decking Board in Teak, for a light brown, natural wood colour
IVORY/LIGHT/NEUTRAL COMPOSITE DECKING
Ivory Composite Decking Boards offer a sophisticated, muted look - giving you a bright, clean, and contemporary deck.
When paired with neutral accessories such as soft furnishings and cushions in your outside space, Ivory Decking creates a relaxed and paired back bohemian style Deck, that makes any bright plants and greenery pop all year round.
For more inspirational projects that have used Ivory as their colour of choice, see here or order a FREE SAMPLE.
Original Cladco Composite Decking Board in the colour Ivory with complementing neutral furniture
Woodgrain Cladco Composite Decking in Ivory, for a lighter colour choice
MIXING COMPOSITE DECKING COLOURS: PICTURE FRAME EFFECT
A popular way to mix up your Decking installation and add design interest is to combine two different coloured Board styles, to create a picture frame effect around the edge.
Not only does this seamlessly finish the entire look of the Deck with neat and tidy edges, but our Solid Bullnose Boards, which are commonly used to frame installations, feature a curved edge for added safety and aesthetic appeal. Bullnose Boards can also be used to finish steps and raised areas in your outdoor space.
Cladco Stone Grey Woodgrain Decking Boards with Charcoal Bullnose Picture Frame around the firepit
Cladco Olive Green Original Decking Boards with Coffee Bulknose Picture Frame Edging
Cladco Stone Grey Woodgrain Decking Boards laid at an angle with Light Grey decorating edging
Make the most of your outdoor space with the range of different colours from our Composite Decking system.
Choose from contemporary shades of Grey and Black, to more natural Deck colours such as Olive Green and Teak - and many more inbetween.
If you would like to find out more about our Mainland UK delivery, the variety of Decking colours to choose from, or to see how other Cladco customers have used our products, visit our website here, where you can also order a FREE SAMPLE.
Alternatively, our friendly sales team are available via email ([email protected]) or phone call on 01837 659901 for any questions or order queries you may have.