If you are thinking about adding outdoor decking to your property it's important to ensure that it's the correct, size, colour, and material for you. Adding a deck is a time-consuming and costly job, the final product however can add a lot to your quality of life and property.
Extending your living area to your garden has never been easier, adding decking to your home is a fantastic way to make the most of your outside space. Encourage more time in the sunshine, al fresco dining, and more with your own deck project.
No matter the size, space, or budget of your decking project, the following decking planner will help you design and plan your new outside deck.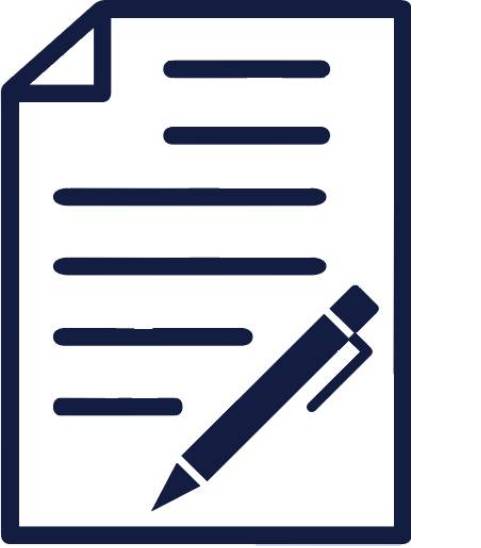 What's your decking's purpose?
Where do you want to lay your decking?
Choosing your decking structure
Choosing your decking board design
How to work out how many deck boards you need?
Next steps: Where to buy & how to lay your deck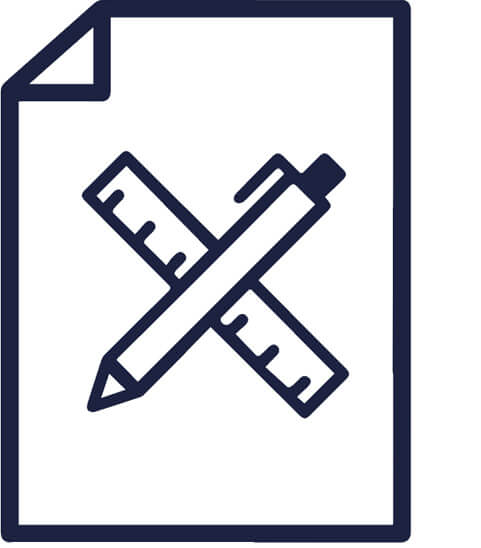 Decking Planner, What's your decking's purpose?
DECKING USES AND PICKING THE RIGHT MATERIAL
Adding a deck to your outdoor space is one of the most versatile home expansions you can do, this multipurpose outside space can be used as a dining, living, or relaxing extension to your house. The decking can be added to, or reduced over time, easily updated, and is a task that you can undertake as either a plan or DIY project.
Before you can start buying and building your deck, you must first know where it is going and what its sole purpose is. This plan will help determine what board material and look you are wanting to go for, and how it will serve the purpose for your decking.
WHERE IS YOUR DECKING GOING?
In the garden at ground level, as a balcony, or around the pool? As well as the purpose of the deck, before you build and install your boards, determining how it will be used is important, is it going to be used within a commercial or domestic location, will it need to support heavy weights, ie Hot Tubs or statues?
Having this information will help you with your plans, as this will help you narrow your search down to materials that have longevity, strength, UV, and bug-resistant properties and boards which require less maintenance than traditional timber deck boards.
For more information and to see the benefits of adding decking to your garden see here.
WHAT SIZE WILL YOUR DECK AREA BE
How much decking do I need and How many decking boards do I need, are questions which can be determined by completing a decking plan, knowing what size, shape, and space the deck and support structure will take up in your garden is a crucial step in your decking plans.
TOP TIP: If you're planning to socialise and to entertain on your new deck, you may want to arrange your garden furniture or mark out your furniture in the desired layout in the proposed deck plot, this can then act as a rough guide and measurement for your new deck. Remember to include extra room for extra furniture, movement, and people.
How much of your outside area would you want to be covered in decking, remember that if more than 50% of your lawn is covered in decking then you will have to seek out permission.
Once you know the design, size, and layout of your deck head to the Cladco decking boards calculator to help calculate the pricing and quantity needed for your decided deck build, a quote will be emailed to you. We recommend purchasing all the boards needed at the same time to ensure there are no colour variations between the boards.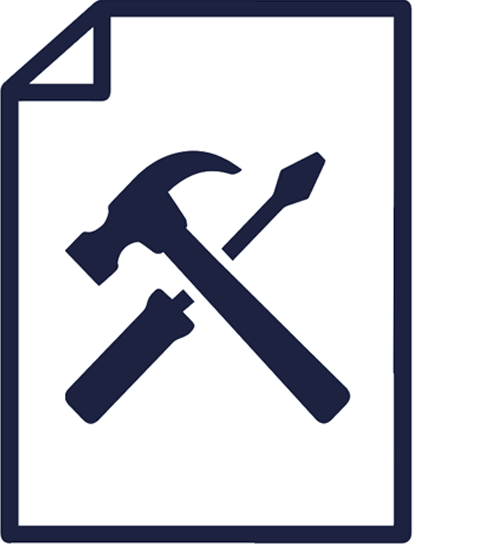 Where do you want to lay your decking?
DO YOU NEED PLANNING PERMISSION?
It is always best to seek professional confirmation regarding planning permission.
However, as a general rule of thumb, planning permission will not be necessary for your new deck if:
Your decking is no more than 30cm off the ground.
You don't live in a conservation or listed area.
Your decking boards cover less than 50% of your outside space.
See more about planning permission and Decking here it is recommended to contact a planner, or registered architect before constructing your deck to ensure planning regulations are met.

WHAT TO CONSIDER WHEN CHOOSING A DECK AREA
When you are in the process of planning and designing your decking layout it is important to know ahead of ordering your boards where you are installing, before you start the designs and purchasing stages. As well as the main point of the deck, will it be used as an area to dine, socialise and relax, or as a balcony, veranda or entrance into the house?
If furniture such as tables, chairs and sun loungers are going to be added to your deck you do not want a board that is easily scratched or marked, Cladco Composite Decking and Cladco Premium PVC Decking boards both come in a range of colours with scratch-resistant properties.
Cladco Premium PVC Decking boards also come with a 25-year guarantee, the perfect board for your forever home. Whereas Cladco Composite Decking Boards, also coming with a range of benefits have a guarantee of 10-years.
KEY POINTS TO NOTE
How long will you be living in the house - If you are building decking in your 'forever' you may want to purchase boards of higher, longer-lasting quality, such as Cladco Premium PVC Decking
How will your decking be used? Will it need to be able to withstand heavy loads or increased moisture?
Is the ground level? As decks have to have a support structure of joists and battens it is important that before installing your decking the area is as flat and level as possible, allowing the boards to be installed properly.
How close is your Decking to your home? Adding Decking to your outdoor space creates a seamless transition between indoors and out.
How much sun/shade will the area get? Will you want a deck that will be covered in sun most of the day or one that is slightly more shaded?
Once you know the decking width, decking design, and decking location you can then begin answering the following: 'How many deck boards do I need?' and learn how to work out how much decking I need using the decking boards calculator.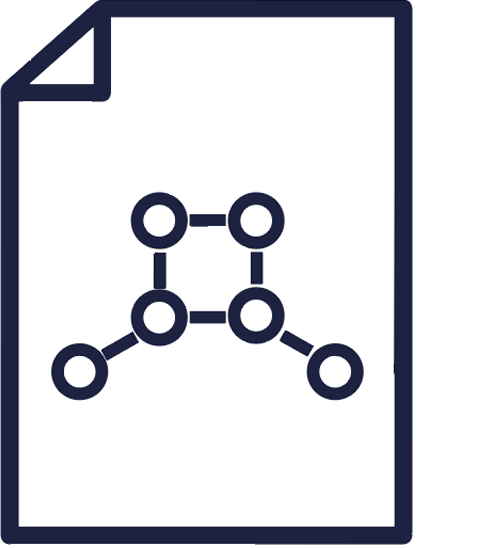 Choosing your decking structure
GROUND-LEVEL DECKS
It is recommended that before you start building your Deck to conduct some thorough research about the level of support structure you will need, this will differ depending on the level of your deck, size, and material.
A ground-level deck is a decking area that is level with the ground floor or your home and garden. Benefits include:
Planning permission may not be necessary (Please note to check with a professional)
No risk of falling for young children
The ground-level deck provides a seamless divide between the interior and exterior of your property.
Ground-level deck boards can be easier to install thanks to the structure needed beneath.
RAISED DECKS WITH STEPS
A raised deck can create dimension and layers to your outside space, transforming the look and designs of your property. To build a raised deck project planning permission may be required.
Adding a raised decking area allows you to make more of your space to your garden as well as giving you views, and spaces to enjoy that you would otherwise have missed without the decking
KEY POINTS TO NOTE WHEN BUILDING A DECK WITH STEPS
Planning permission may need to be approved
Further structural plans must be in place, weed mats, different length joists and battens.
Building Decking with steps may have to meet certain health and safety requirements, see more here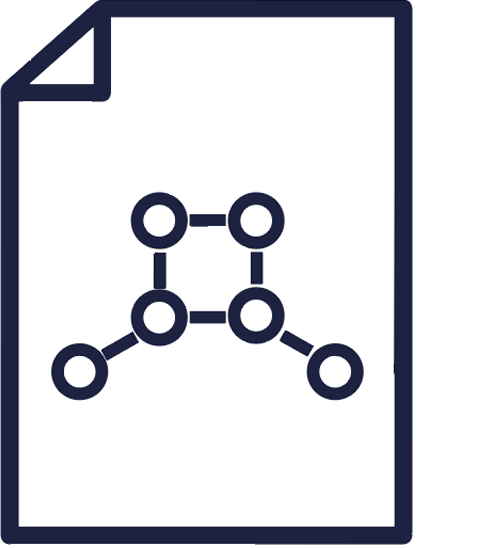 Choosing your decking board design
Cladco Decking Boards can be installed in various designs, depending on your personal preferences. Composite boards are available in a range of eight colours, in either woodgrain or original finish. Each decking layout, horizontal, vertical, diagonal and chevron may require an alternative support structure layout, which should be in the plan prior to the build.
Depending on the decking designs plans, space available and your decking dimensions, the number of boards and products needed may differ depending on what pattern they are designed in, choosing the board design is an important part of the planning decking process.
HORIZONTAL BOARDS
Decking boards are usually placed horizontally, which is often perpendicular to the adjacent wall, making the installation process simpler, however, this is down to personal preference.
Installing the boards horizontally is the simplest pattern available and will need no extra cutting or fitting.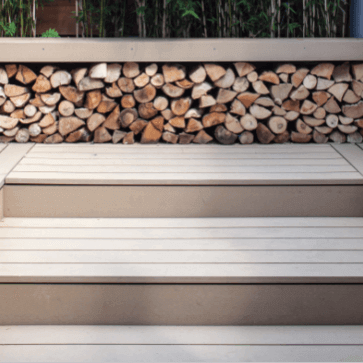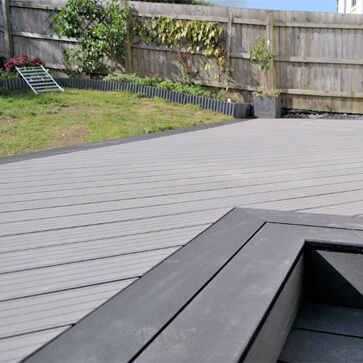 DIAGONAL BOARDS
Installing your decking project so the Boards build up in a diagonal pattern gives your deck a unique and sophisticated look.
To do this you should start by measuring and installing the longest span of the deck, which reaches from one corner to the other, then beginning by building out from the centre until all Boards are installed. Boards may have to be cut.
PICTURE FRAME
Picture Framing is when a contrasting or complimenting coloured board is used around the outside of your deck, creating an attractive border.
Cladco Composite Bullnose Boards are often used in picture framing thanks to their curved edging, the Bullnose Boards are an ideal board for completing your decking.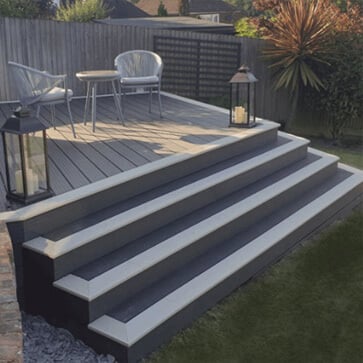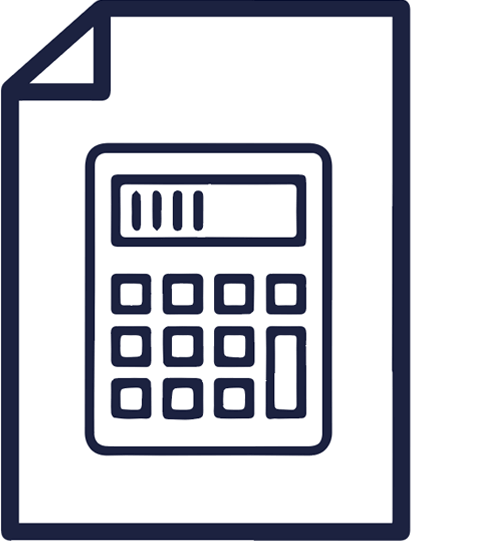 How to work out how many deck boards you need?
Before you build your new outdoor decking area, it is important to know how many decking boards the space required. By using Cladco Garden Decking Calculator you will be able to find out how many decking boards, joists, screws, and trims you will require, as well as any further recommended products and it will also calculate any additional wastage.
Cladco Garden Decking Calculator will tell you the cost of your new project as well as answer questions like: 'how much is decking per square metre'.
All you need to do is choose the decking shape, and size, as well as the type of board and the colour, and the calculator will do the rest! The calculator will then either email you a quote for you or you can purchase online in a few steps! Saving you time and energy when creating your decked space.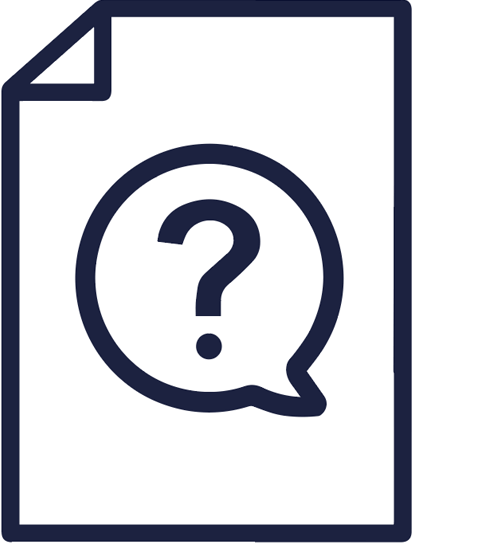 Next steps: Where to buy & how to lay your deck
WHERE TO BUY
Adding a deck to your property not only extends the living areas to outside the confines of the building can increase the price of your house and can give you a lower-maintenance outside space.
Cladco Profiles, founded in 1972 is a Devon-based family-run company and one of the UK's leading suppliers in Composite Decking. Cladco offers a range of Composite products and roofing sheets nationwide. Including a range of decking boards perfectly suited for any sized project.
Cladco Composite Decking is made of an amalgamation of 60% FSC accredited recycled wood fibres and 40% recycled plastic, they are an environmentally friendly, low-maintenance alternative to traditional timber, with a range of properties, allowing you to relax and enjoy your new deck.
Cladcos Premium PVC Board, are one of the strongest materials available on the market, made from polyethene plastic core with an ASA resin exterior, the boards have the appearance of natural wood grain and are available in a range of six colours, the boards have a 25-year guarantee, can withstand heavy loads, and are ideal for any deck installed in areas of high levels of moisture. Depending on the area you are adding your Deck, the budget you have, and the preference in board properties will depend on what style of decking you will purchase.
Cladco offers Composite Boards, and Premium PVC boards you can compare the two and their properties here.
HOW TO LAY YOUR DECK
When it comes to installing your outdoor living area, the deck can be fitted either as a DIY project or by professional installers.
Both Composite and PVC Decking boards can be installed and cut using traditional woodworking tool, no Composite or Decking only tool is necessary.
Cladco supply all the equipment needed for your decking project, including both timber and composite joists, screws, fixings, trims, and weed mats (installed beneath your deck to ensure no weeds or unwanted vegetation grows between the boards, the weed mat is made of a fibrous material that allows water and nutrients into the soil below but prevents any growth from penetrating the surface.)
See the easy-to-follow installation guides here: for Composite Decking installations, and for Cladco Premium PVC Decking installations.
Find out more about our range of low-maintenance and no paint Composite Decking Boards via our website, or by calling one of our friendly sales team on 01837 659901.