Last updated: 17th March 2023
Adding cladding boards to your house, bungalow, office or garden room is an easy way of transforming the look of your building. Wall cladding products come in a range of materials and styles. Each cladding material has different advantages as well as the total cost of materials and installation.
Adding cladding to a home will transform the look and feel of your house, whilst also protecting the underlying structural walls and acting as insulation. When installing wall cladding on your home, you will want to make sure you are paying a reasonable price for it.
This blog will explain average house cladding costs, including the cost of materials, labour, and any extra costs which may occur. This includes scaffolding and trims as well as helping you to decide which external cladding is the best option for you. From using traditional timber or brick to low-maintenance composite or uPVC cladding.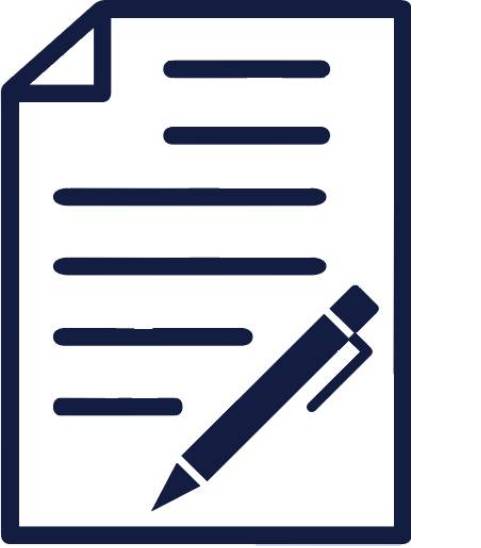 Factors that impact the cost of house cladding
The cost of cladding a building can vary depending on the material you choose and the type of installation needed. Will the boards be installed in a tongue and groove, or feather board method? What's the size of your house?
Other factors can also increase your house cladding prices, such as the size and shape of the property. This may seem like an obvious one, but the size and shape of the building you want to clad, will play a part in the total cost of your cladding project. If you are adding wall cladding to a small shed at the bottom of your garden, this is going to be significantly cheaper when compared to a five-bed detached house. Not only will a semi-detached or detached house have increased cladding costs compared to a garden studio, but if that home has multiple windows or angled walls, then the price for labour can also increase per square metre of cladding. If your builders have to spend hours cutting your cladding boards to size, the timescale for your finished project may increase, as will your bill.
Materials & types of house cladding
There is a wide range of external cladding materials on the market. Each one will use a different installation method, with different properties and costs. Here are a few exterior cladding board options with their benefits and prices.
FIBRE CEMENT WALL CLADDING
Cladco Fibre Cement Wall Cladding is a high-quality, attractive, artificial cladding board that requires little to no maintenance. Boards cover a wider surface area than traditional timber cladding. Fibre Cement Wall Cladding Boards give the appearance of traditional timber without the need for regular maintenance.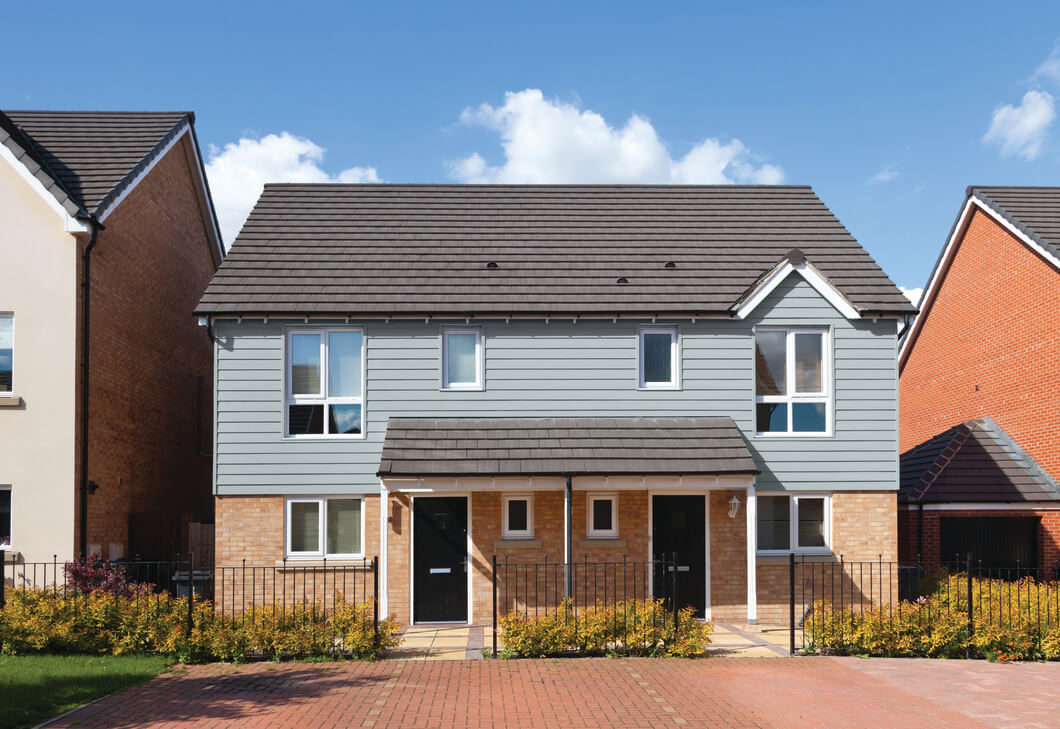 This house cladding has been designed using Cladco Light Blue Fibre Cement Wall Cladding
Fibre Cement Wall Cladding Boards are available in a range of eight attractive colours as well as unpainted. Boards should not stain, rot, fade, or splinter, with Fibre Cement Wall Cladding Board prices starting at £16.56 per Board.
COMPOSITE WALL CLADDING
Cladco Composite Wall Cladding Boards are a high-quality, low-maintenance, environmentally-friendly cladding material. They are manufactured using 60% FSC accredited wood fibres and 40% recycled plastic, and are available in a range of eight different colours.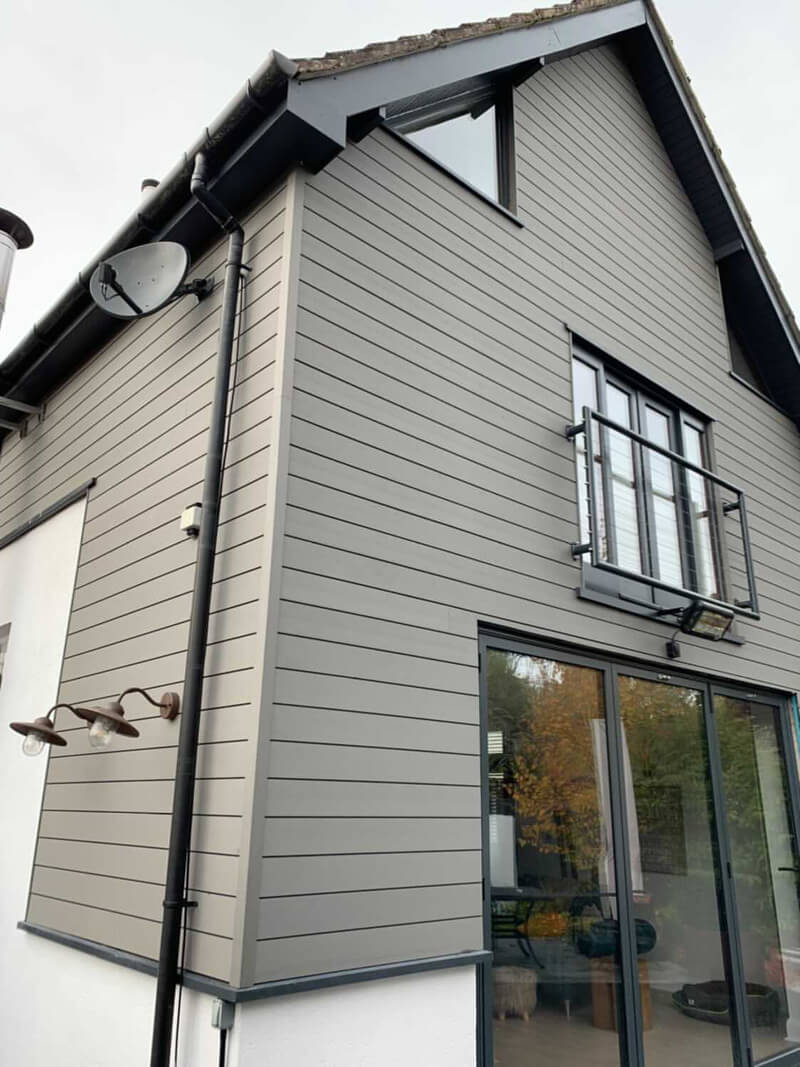 This detached house has been Clad in Cladco Composite Stone Grey Wall Cladding Boards
As opposed to uPVC cladding material, Cladco Composite Wall Cladding Boards give a wood-like appearance without having to be maintained. Cladco Composite Cladding prices start at £19.68 per Board.
TIMBER WALL CLADDING
Timber wall cladding is one of the most traditional materials for external house cladding. While timber demands regular care and maintenance, the long-lasting product has a range of benefits. They can protect the property from wind, rain, and the elements while giving it an attractive, classic timber appearance. The average cost of timber wall cladding boards can start between £13 to £25 per board.
Quality of materials - The age-old advice of 'you get what you pay for' is true. High-quality, durable and long-lasting wall cladding is going to cost more than lower quality cladding boards. The better cladding materials you opt for, the higher the over cost of your cladding project will be. However, when purchasing high-quality cladding, your exterior walls should last longer and need less maintenance over the years.
Any Prep or Post work required can entail anything from ensuring the proper planning permission or building regulations have been sourced if the project needs planning permission. As well as making sure the walls are properly prepped, any scaffolding is installed or taken down.
Location - Where your project is located can sometimes impact the cost f your house cladding project. If your installers have to manually carry materials up a hill or work in hazardous locations, the cost of labour may increase. Not only does the location of the house matter, but the location of where the Wall Cladding is going, for some jobs, like a Gable end or part house Cladding, scaffolding is needed, whereas if you're cladding your porch or a garden room, it may not be.
Carpenters or Companies reputation - A busy, highly recommended company may have higher rates than a lesser-known, smaller company or contractor.
How much does house cladding cost?
The cost of house cladding will differ depending on the variables outlined above. The average price of cladding a house can cost around £20 per metre square.
Costs may fluctuate depending on what style of cladding you opt for. Here are some ballpark figures for a generic semi-detached or detached house job.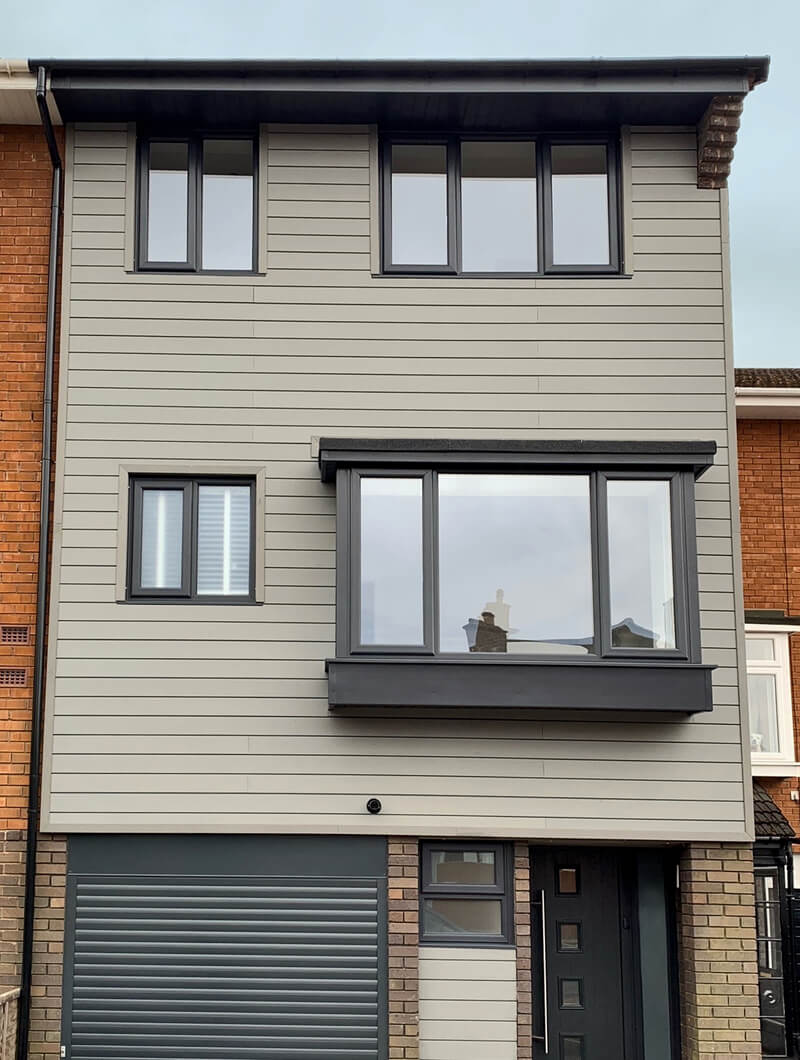 This townhouse has been clad using Cladco Composite Cladding in Stone Grey. These Boards have been installed horizontally for a sophisticated and contemporary look.
While costs on average fluctuate between £1,500-£2,100, this will vary depending on the area you want to clad and the state of the existing walls.
To cover a single wall or a gable roof, Composite Wall Cladding Boards (including all the Joists, Screws and Fixings) could cost around £1,911. Please note these figures have been calculated using Cladco Wall Cladding Calculator.
To find out how much it would cost you to clad your home, see our easy-to-use Wall Cladding Calculator. This will allow you to work out how many Boards, Fixings and Screws you may need for your project. Choose between Cladco Composite External Cladding or Fibre Cement Weather Board Cladding.
Materials / Supply Only Costs
External Cladding costs vary depending on what you're purchasing. The most common exterior cladding style or house cladding tends to be timber, Composite, Fibre Cement, or plastic.
The following prices are accurate at the time of writing for a standard square metre of Wall Cladding.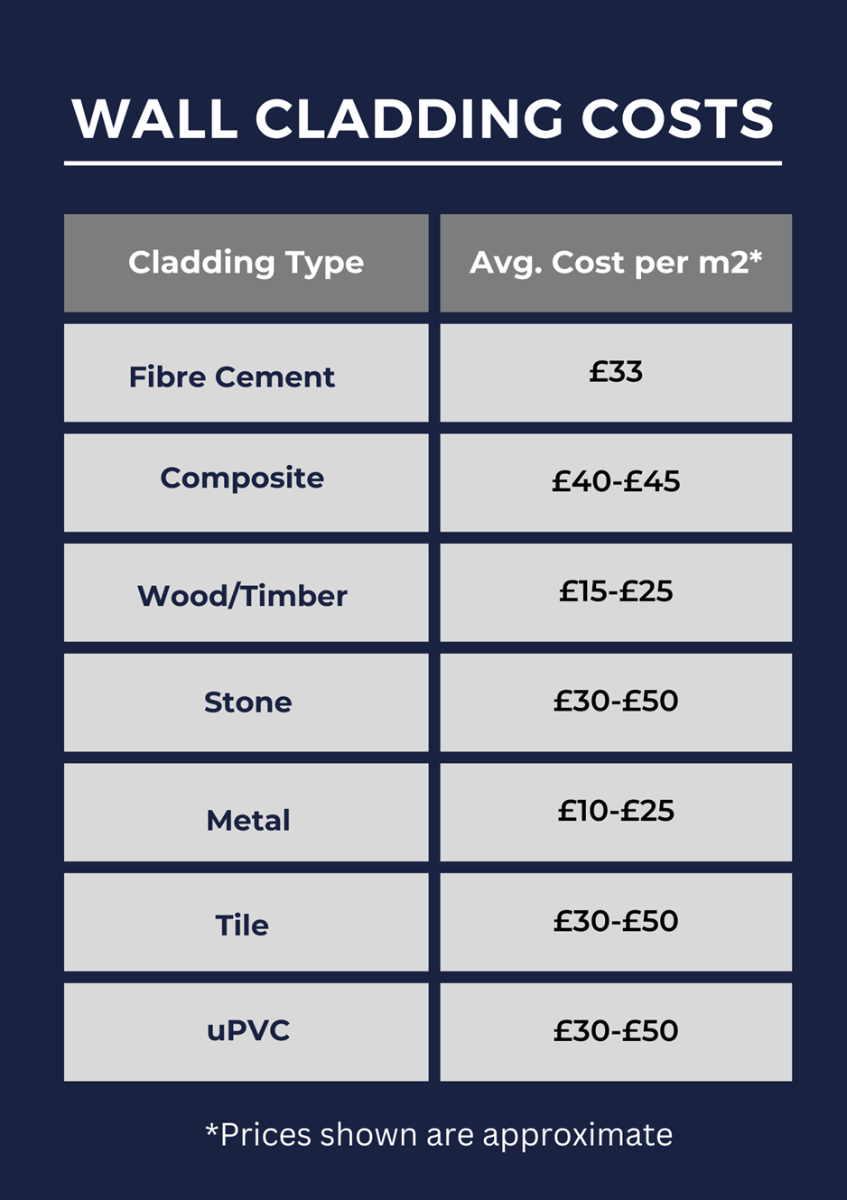 uPVC is the most cost-effective option for house Cladding, with stone and timber Cladding sitting at the priciest options. While prices differ per type of Cladding, the low maintenance benefits of Composite, Fibre Cement, and uPVC Cladding and the price difference are a bonus.
Labour Costs and Timescales
When it comes to installing wall cladding onto the exterior of your house, you may want to get some tradesmen in to undertake the project for you, or you may want to go down the do-it-yourself route.
Bringing in specialist tradespeople to install your cladding to your property will have attached labour costs. However, the low-cost DIY option may have longer timescales.
It is important to know what the job entails and what cladding material you have opted for when it comes to hiring merchants. Not all tradesmen have the skillset for all types of cladding.
Some tradesmen may specialise in rendering and aluminium cladding, whilst others may specialise in timber or brick. It is important to know what materials you are working with before hiring a labourer.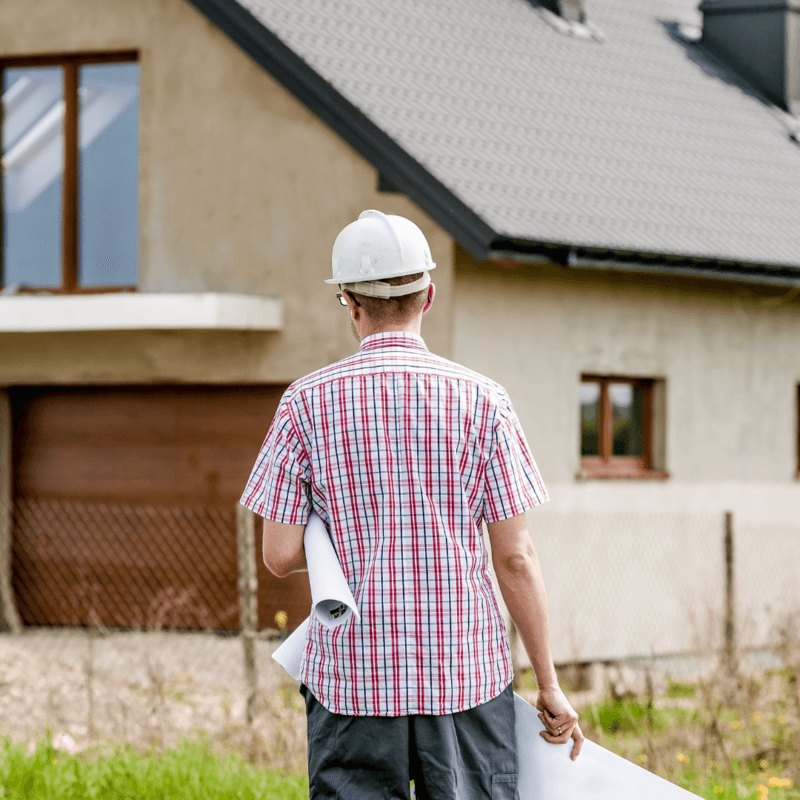 Specialist - External wall cladding specialists are contractors who are hired out specifically for wall cladding installation jobs. Hiring a specialist contractor will ensure that your house cladding will be installed correctly and should last you for many years to come. But, for their expertise, the cost of specialist installers is not cheap, usually ranging from £150- £200 per day on average. For a bungalow, or multi-story home, this price may differ.
Builder - Whilst builders are often very skilled in general, they are often used to lead an entire project. They usually hire or control other contractors such as carpenters. If you are on a strict budget, hiring a builder to install your wall cladding will generally cost between £100 and £150 a day.
Carpenter - While carpenters specialise in timber jobs, you do not need to only work with timber cladding to justify hiring a carpenter. Carpenters can also install part-wood products, like Composite Wall Cladding, as well as other cladding materials. Carpenters, on average, cost around £125 upwards per day, depending on the size of the build, the skillset, and the experience of the carpenter.
Labourers - When it comes to building and building jobs, using a specialist or carpenter will give you a high-quality installation. A labourer with a similar skill set can cost around £50-£200 per day.
DIY - any avid DIYer can install Cladco Composite and Cladco Fibre Cement Wall Cladding Boards with our easy-to-follow installation guides.
Timescales - When undertaking a building project of any nature, it is important to know the timescale in which it will be finished. Whether you are hiring an external trader or doing it yourself, knowing how long your works will last is crucial for any project.
A few factors can affect the timescale your project can take:
How complex the installation is - if you are cladding in a certain pattern or need the wood, or other cladding material, cut in certain lengths or styles.
How large the building is - single-storey buildings or a bungalow will take less time than installing house cladding on a large multi-story home.
Timings will also change depending on the skill of the tradesman and the number of tradespeople needed for the project.
When adding external cladding to your home, it isn't just the cladding cost that you need to think about.
Scaffolding: If you are adding cladding to your home, and your house has multiple stories, you will likely need to hire scaffolding. This will add an additional cost on top of installation and materials.
Gutters: If you are paying for scaffolding to install wall cladding boards, why not clear, fix or replace your gutters? Purchasing gutter replacement kits could be an additional cost. For a new guttering kit, prices can begin at around £250.
Support Battens: Most cladding types require support battens. These can be wood, Composite, or even a metal frame fixed to your wall, which will provide a gap between the external cladding and the surface. This can help with weatherproofing and insulation. If you do not currently have cladding installed on your property, this will be an additional cost you will need for your project.
Trims and Fixings: Corner Trims, Starter Strips, and Screws are all items which will be needed to ensure your wall cladding can be fixed to your home.
When installing or undertaking a cladding project, there are a few things you may want to make sure you have. Such as:
The correct amount of Wall Cladding materials - Use our Cladco Composite Wall Cladding Calculator to calculate how many Boards, Trims, and Fixings you will need for your home.
Scaffolding - if required.
Insulation - If required
Trims, Fixings, and Cladding Boards
Multiple quotes from installers - so you can choose the one that is best suited to you.
Skip - if you are removing old Cladding
Sander, paint, stain, or treatment if you install Wall Cladding which requires maintenance, such as red cedar, timbre, or cedar cladding boards.
Find out more about what you may need for your wall cladding installation by using our Wall Cladding Calculator, or seeing our installation guides.
Why should you choose house cladding?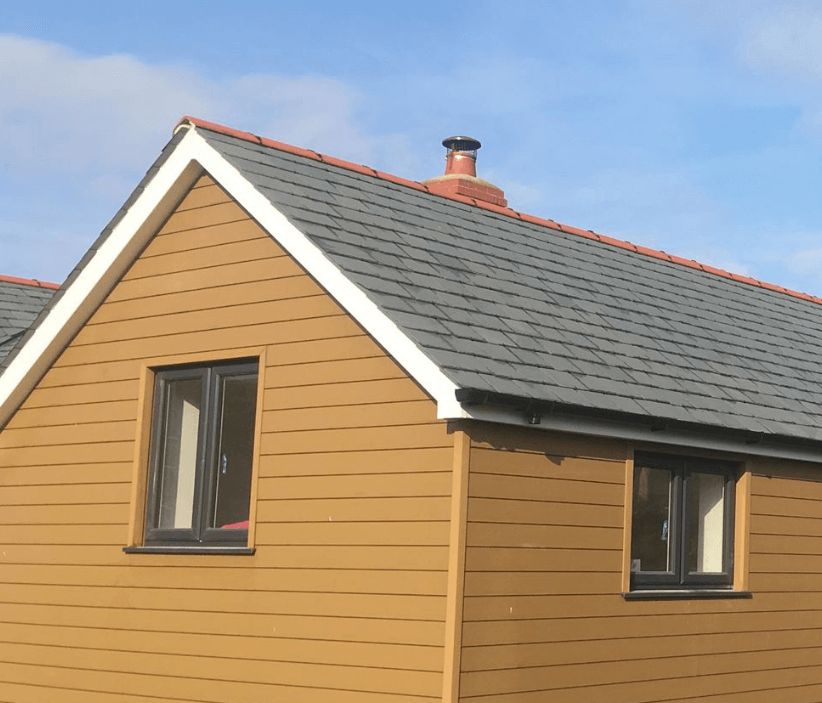 This detached house has been clad in Cladco Composite Teak Wall Cladding, giving the appearance of traditional timber cladding
Adding external Cladding to your home is a fantastic way to transform the look of your home. While some installations may need planning permissions, adding cladding to your home is an easy way to modernise and restyle your home. Adding wall cladding to your home can also help increase the curb appeal of your home, which could help the cost of house prices.
External cladding is becoming increasingly popular with many options available on the market today. Cladco Composite Wall Cladding is a fantastic alternative to traditional timber cladding, manufactured with 60% FSC accredited wood fibres and 40% recycled plastic. Boards have a range of beneficial properties, including:
Low-maintenance - does not require staining, treating, or sanding
Stain-resistant
UV-Resistant - Boards should not fade. Slight weathering may occur due to the natural components within the Boards.
Should not rot, warp or splinter
Easy to install
Available in a range of eight attractive colours with a woodgrain effect available

The below project has used Cladco Composite Wall Cladding in Stone Grey installed horizontally on the exterior of a dormer window. The contemporary cladding style contrasts the plain brick walls of the house which is perfect for an attractive and sophisticated three-story home.
Cladco Fibre Cement Wall Cladding Boards are another alternative to timber wall cladding. The Fibre Cement Boards give the appearance of traditional timber cladding without the need for maintenance, as well as a range of additional benefits including:
Low-maintenance - does not require staining, treating, or sanding
Stain-resistant
UV-Resistant - Boards should not fade
10-year guarantee
Should not rot, warp or splinter
Available in six attractive colours
Is house cladding something I can install (DIY)?
House cladding can be installed by either a professional or as a DIY project. Cladco Composite Wall Cladding Boards are installed using a tongue and groove technique.
Cladco Composite External Wall Cladding Boards can be installed either vertically or horizontally depending on your preferences. With our easy-to-follow Installation Guides, Cladco Composite Wall Cladding can be installed for a range of projects.
The below project has used Cladco Composite Wall Cladding Boards in Stone Grey, installed vertically around the summer house. This has created an attractive weather-resistant building.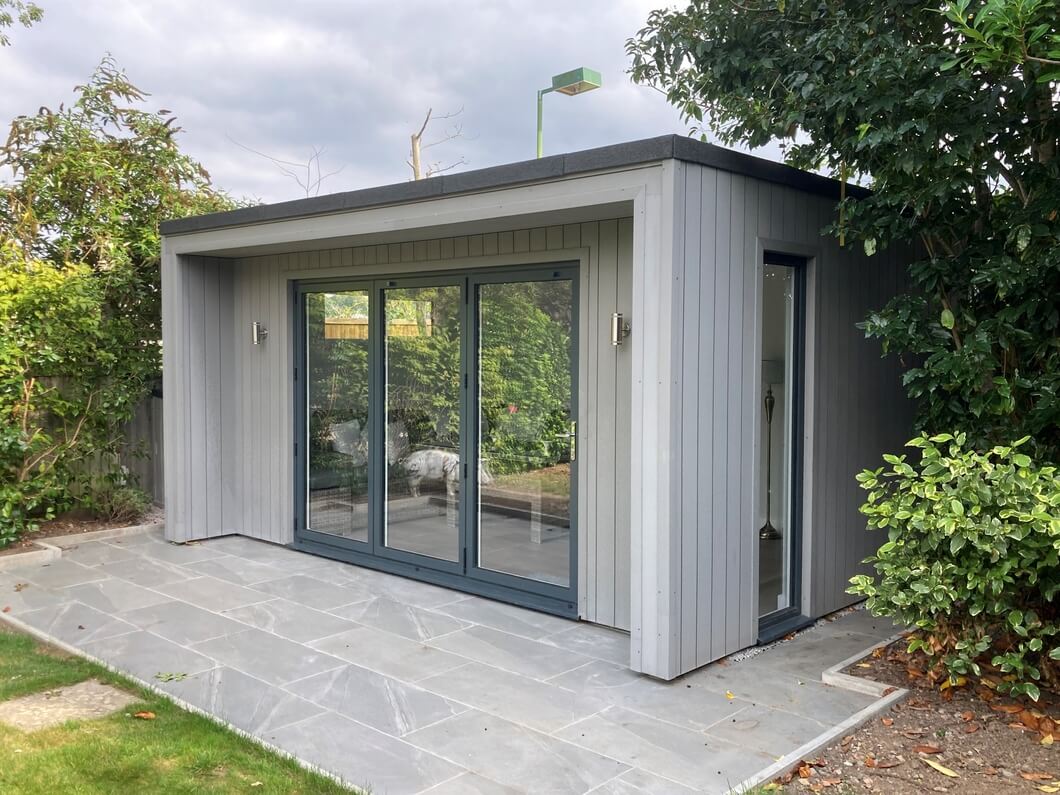 Adding wall cladding to your property is a fantastic way to transform the way your home looks. It's also a good way of protecting it from the weather and the elements. When you are looking at changing the way your home looks or installing cladding, it is important that you are not being overcharged for labour, materials, or time.
Adding cladding to homes, summer houses and businesses are becoming increasingly popular, with the range of materials available also increasing. Transforming brick walls into aluminium, timber, Composite, or uPVC walls of cladding can also add value to your property.
If you are interested in purchasing wall cladding for your property, see our website or contact a member of our team on 01837 659901.